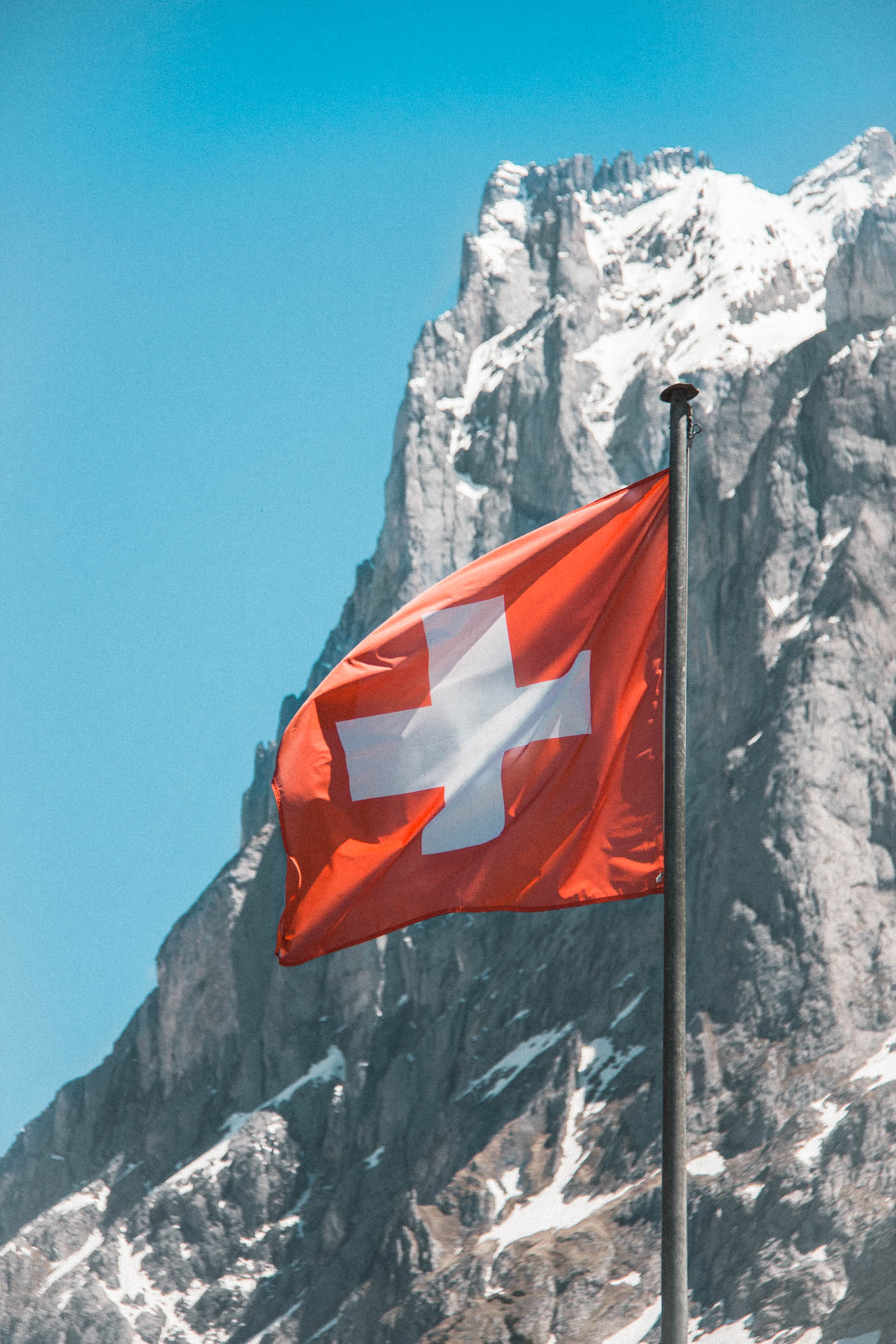 Alright, here we go with part 2 of our Switzerland roadtrip!  We left Zermatt for the Jungfrau Region, which was rumored to be the most beautiful and have many waterfalls.  It certainly lived up to the hype and expectation.
DAY FIVE
This was primarily a travel day.  We drove through beautiful mountains and valleys from Täsch to Beatenberg.  This included a ride on a "ferry", which was a train you drove your vehicle onto, and stayed in your vehicle on the open sided train car while it flew through the center of a mountain at top speed.   It was decently intense, and all-over amazing!
We arrived at the Dorint, our hotel for the next few nights, high in the hilltops above Interlaken.  Interlaken is a town sandwiched in between two beautiful lakes, so needless to say, the view from the hotel was incredible!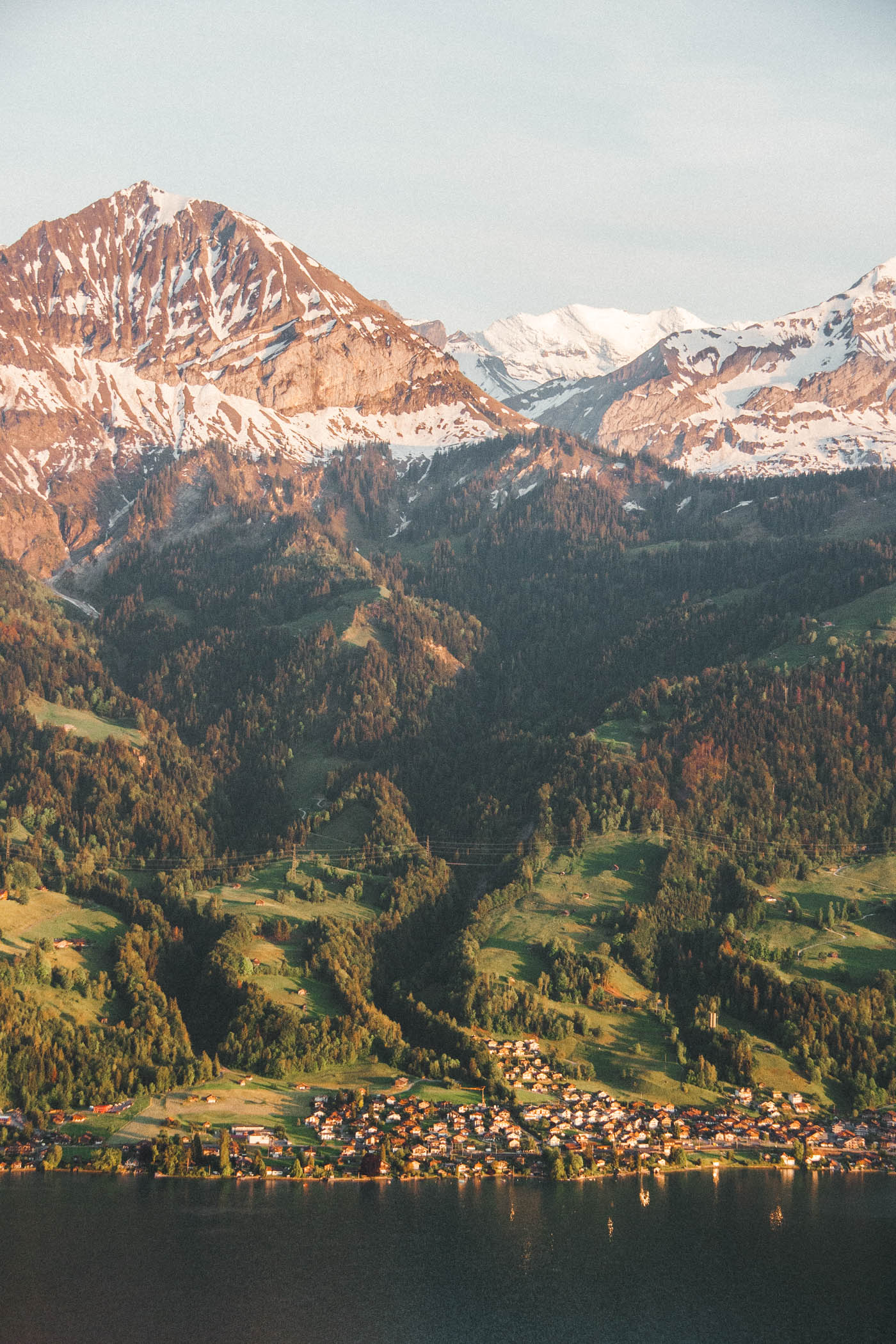 DAY SIX
–  Grindelwald
–  First
–  First Flyer
–  Cliff Walk
–  Lauterbrunnen
Day six started with a half hour drive to Grindelwald, a tiny town in a valley, across the lake from the Dorint.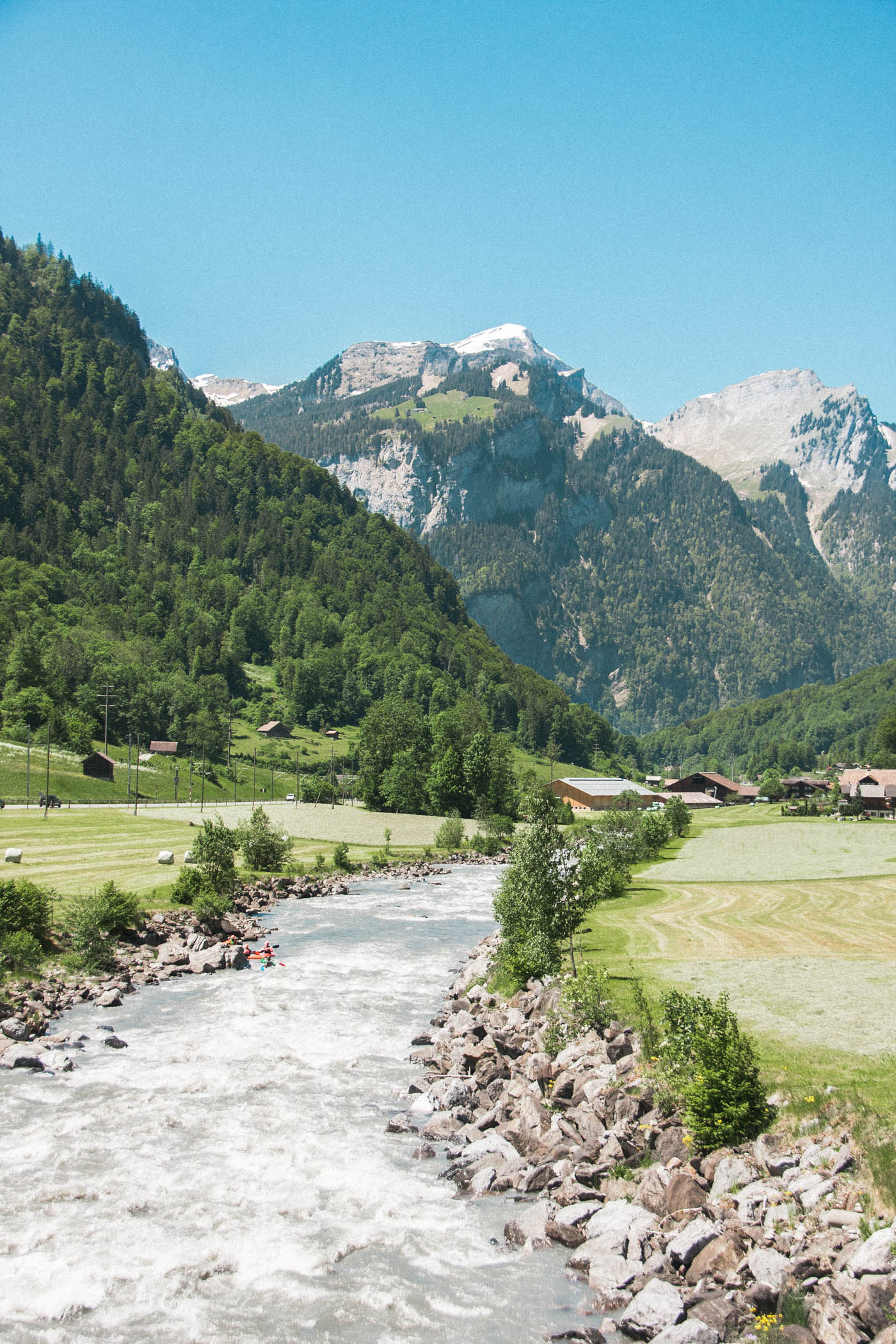 We took the gondola from town up to First, where we enjoyed the snow, the warm sunshine, the views, and a couple activities.  With First, you can buy your lift ticket along with however many activities you want to do.  There is a zipline, a cable glider, mountain carts, trottibikes, air bag jump, bike tours, and more!
We decided on a zipline, and then enjoyed the free cliff walk at the top.  We saw mountain goats, which was a big bonus.
After our fun day on the mountain, we drove to Lauterbrunnen to look around briefly.  It was so beautiful there!  Everywhere you look there is a waterfall; so incredible!
DAY SEVEN
–  Lauterbrunnen
–  Trümmelbachfäll
–  Mürren
The small taste of Lauterbrunnen that we had the day before was not enough.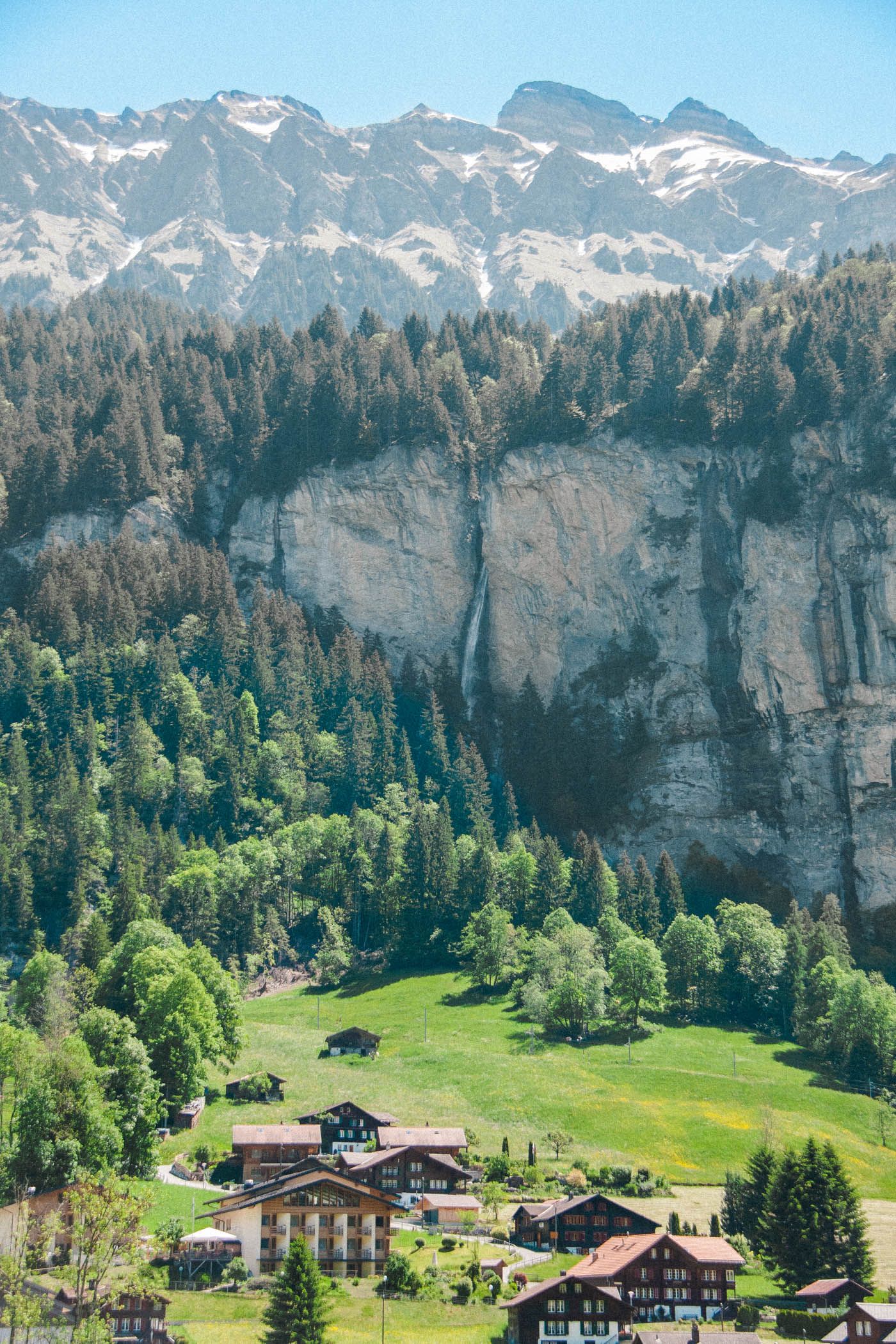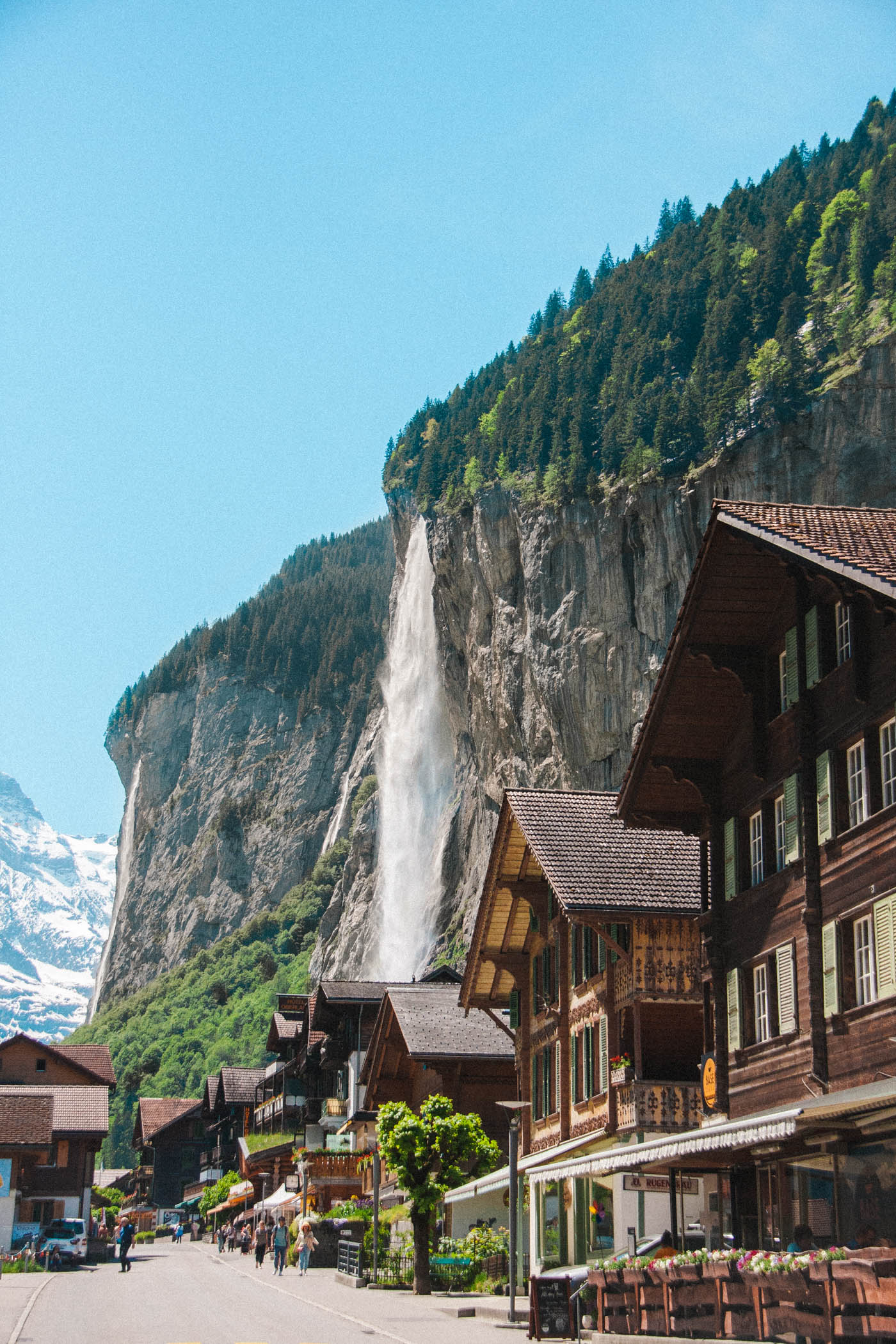 We first visited the beautiful Trümmelbachfäll, a waterfall that had carved its way into the rock, and could be accessed through cliff walks and caves.  It was so cold and wet, but completely worth it!  It was amazing to see, hear, and feel the power of the water around you.
Next we hopped on the gondola and headed up to Mürren, a tiny alpine town above the Lauterbrunnen valley.  It was so picturesque, although many of the shops, restaurants, and hotels we still closed for the season.  We wandered the nearly empty streets, took in the views, and popped in and out of shops.  We attempted to book a paragliding experience, but the storms rolled in right at our scheduled time, and they had to cancel.  Next time…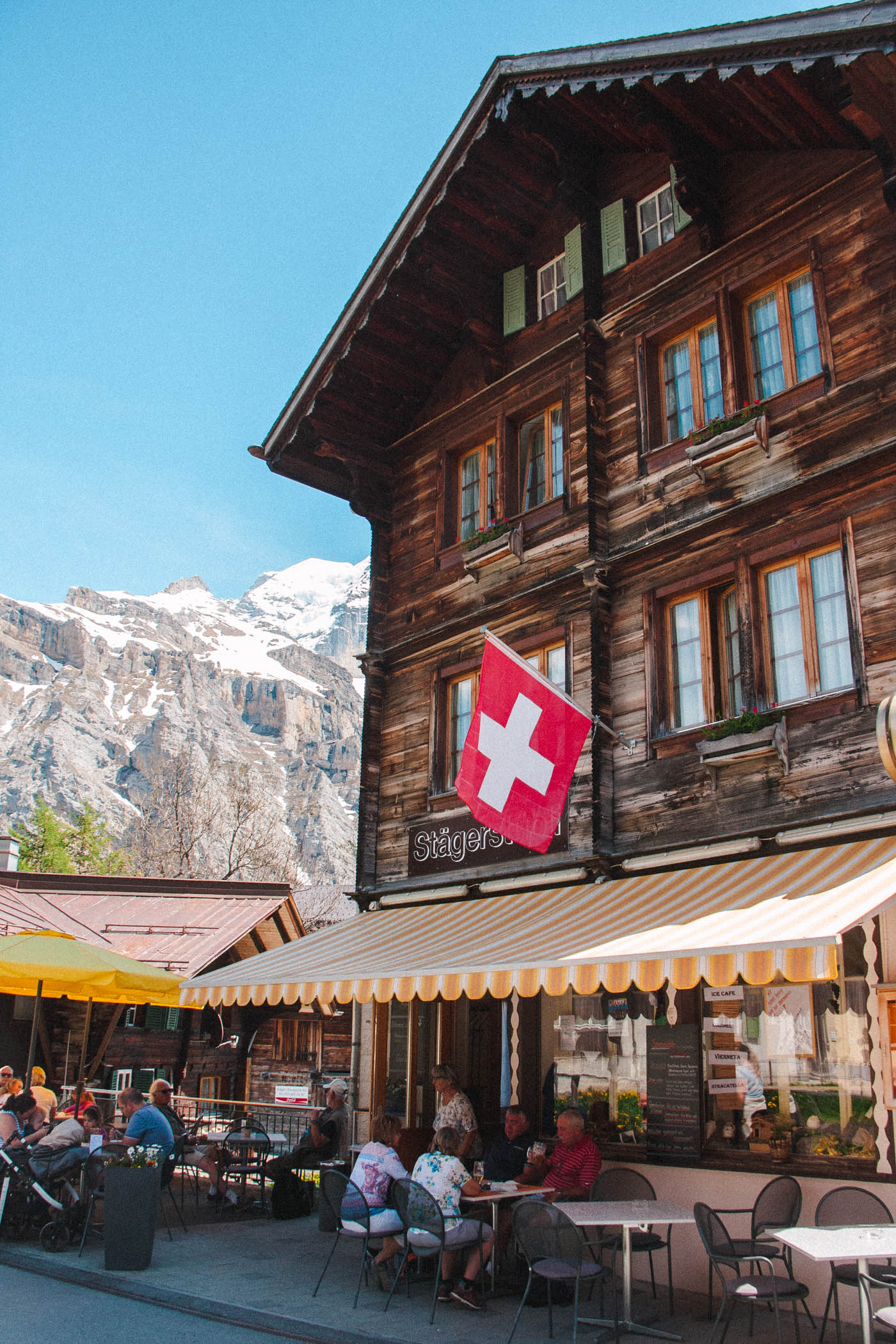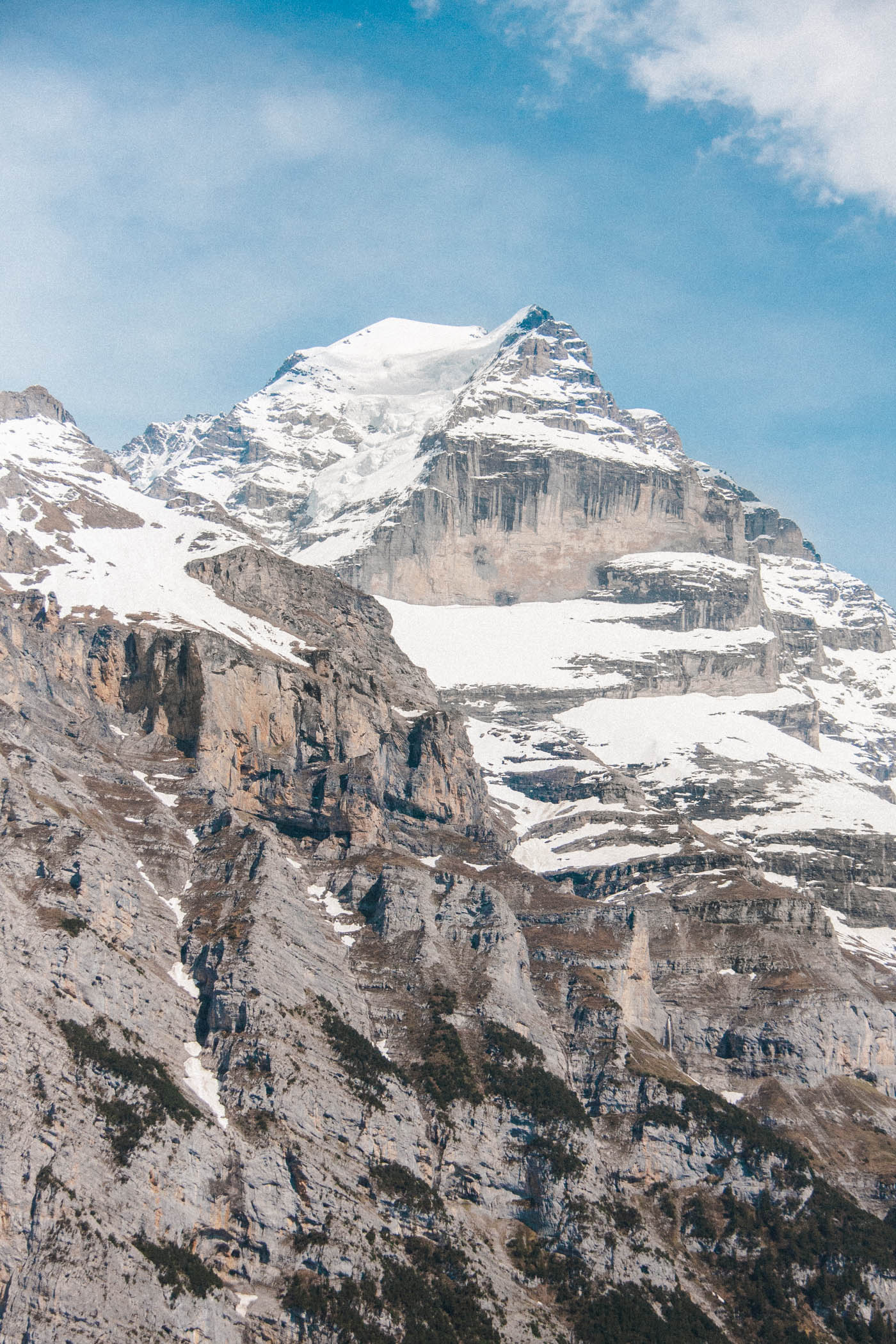 DAY EIGHT
–  Oberhafen Castle
–  Bern
–  Zytglogge
–  Zurich
We were sad to say farewell to the Jungfrau region, and the alps, as we headed out of the beautiful snow capped mountains and toward Zurich.
But before we left, we stopped along the lake to tour Oberhofen Castle, a gorgeous old structure that sat right up against the water.
We popped into Bern on our way to Zurich.  Bern quickly became one of my favorite cities.  It was just the quintessential European city, exactly what I picture in my mind when I think of Europe.  The streets are lined with flags, there are beautiful cathedrals and parks.
Our main reason for seeing Bern was to enjoy the chiming of the Zytglogge, a beautiful clock tower in the heart of the old town.  We did not do our research, though, and didn't realize that it only puts on a show at noon every day, and NOT every hour.  So, we missed fun, but we comforted ourselves with a sparkling fruit drink at Münsterplattform under the shadow of the Bern Münster, the city's beautiful cathedral.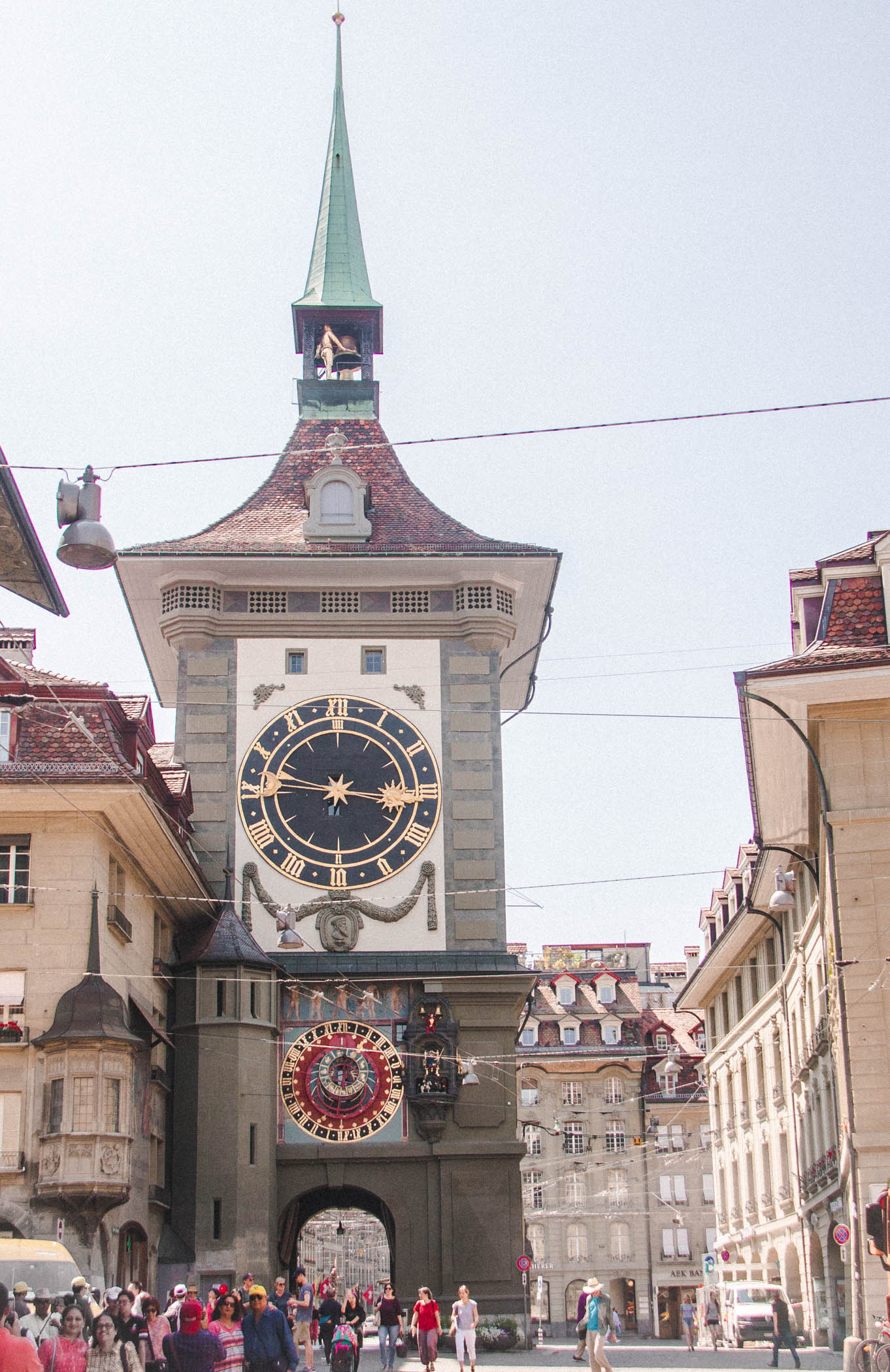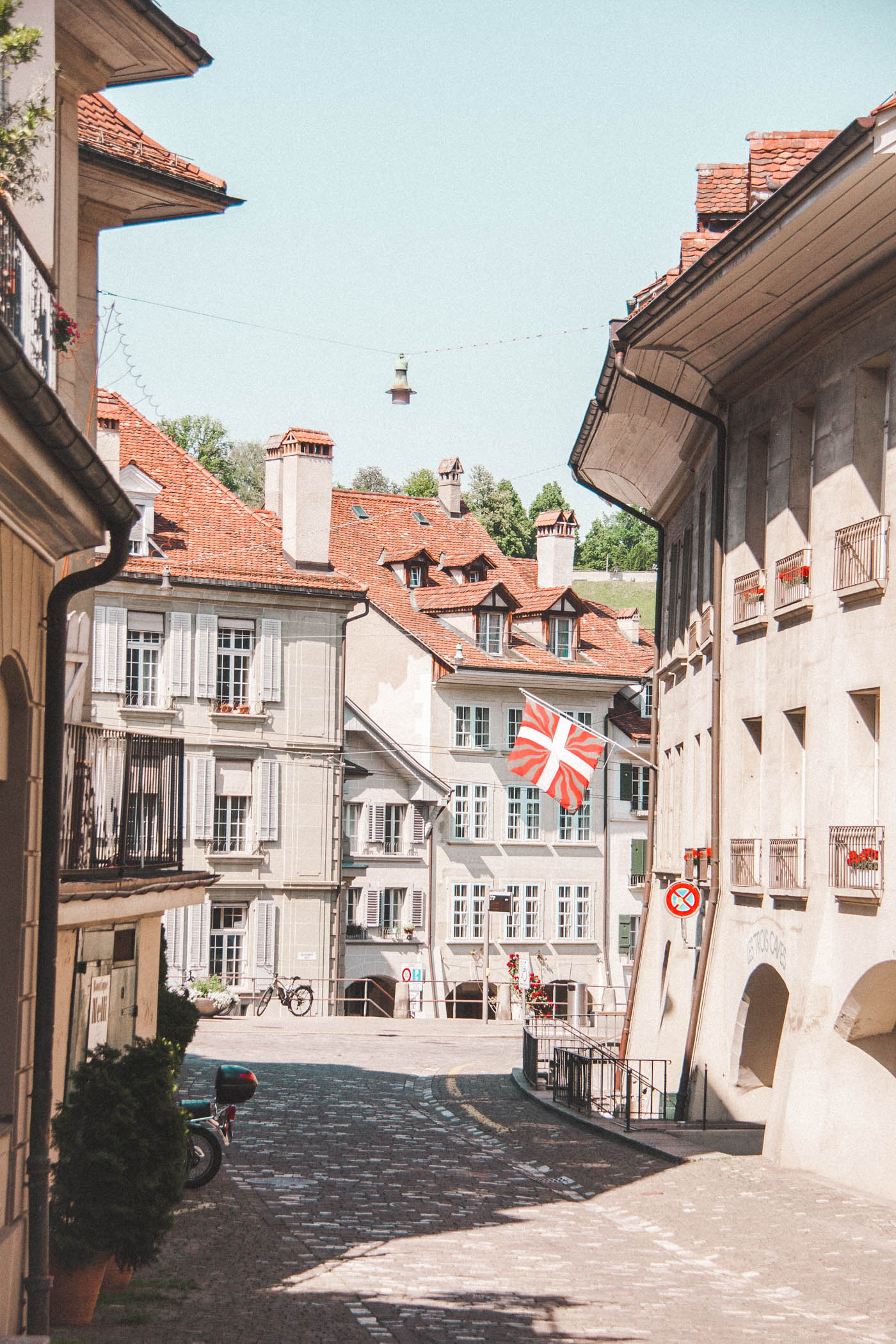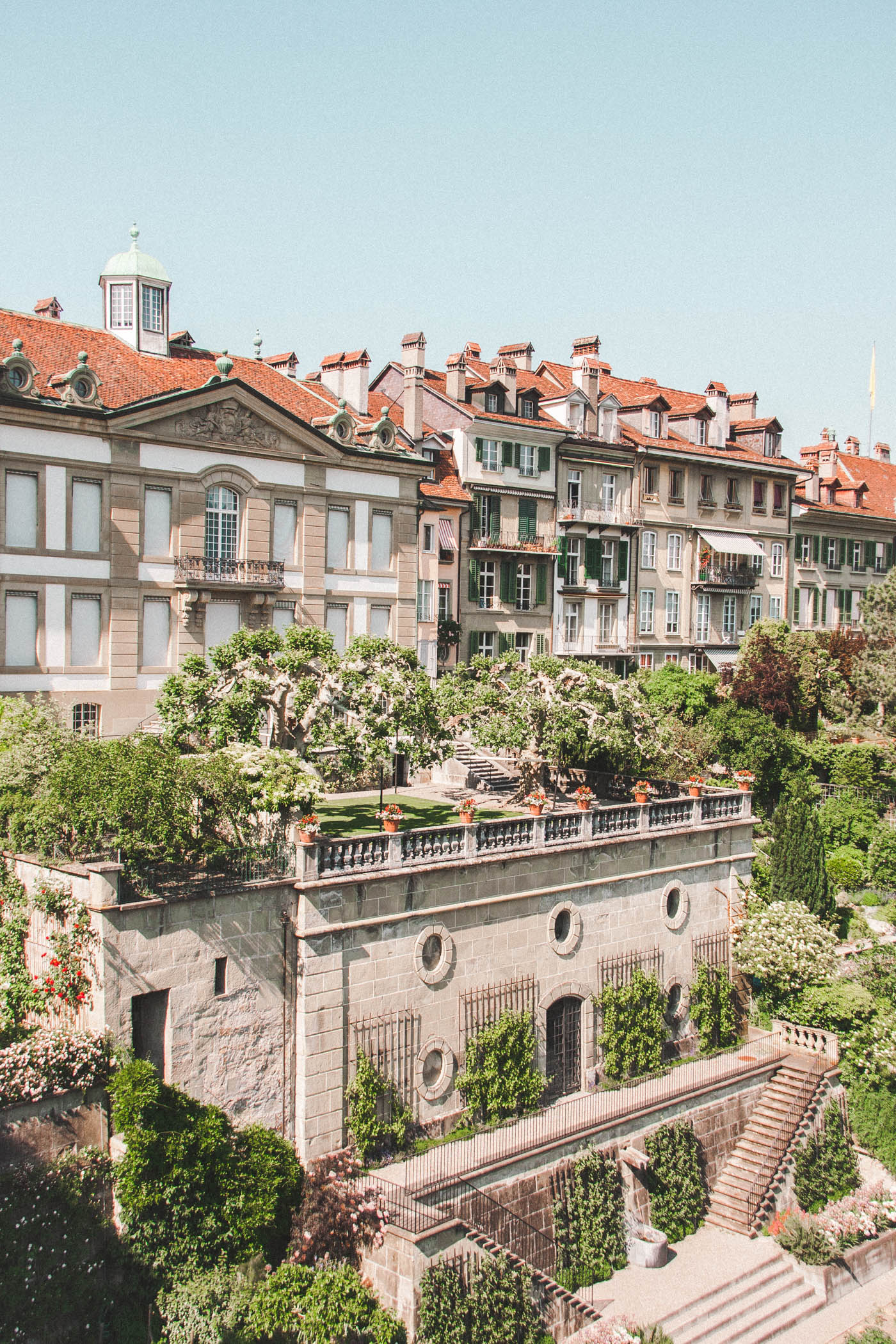 Next we were off to Zurich, our home for the next two nights.
DAY NINE
–  Germany
–  Ebenalp
–  Austria
–  Lichtenstein
Yes, this day was packed very tight.  We got up bright and early and headed north toward Rhine Falls.  Our route took us through Germany briefly, which was fun, because nearly all of us picked up a new country!
Rhine Falls is the biggest waterfall in Europe, and it was impressive being able to stand so near to it.  You could practically reach out and touch the fall it was so close…which doesn't sound too scary, but when you are there and see how powerful it is, it's a little intimidating and awesome!
After the falls we drove east, back into the mountains, to the Wasserauen-Ebenalp cable car, which took us to the top of Ebenalp.  A short hike down from the top, through a cave, and past a cavern chapel, we arrived at our destination:  Berggasthaus Aescher, a gorgeous 150 year old wooden hotel and restaurant built into the side of the cliff, overlooking the valley.
We couldn't believe how beautiful it was, and so peaceful!  We thought every table would be full, and we would have to wait in line to get our dinner, but not so…we got the best table on the corner with a view, and there were only a few other hikers dining, which made the whole experience so relaxing.  I ordered a cheese tart with a side of bugs (don't even ask, I'm not sure why they were serving it, but I had to try), and we all split a delicious elderflower soda.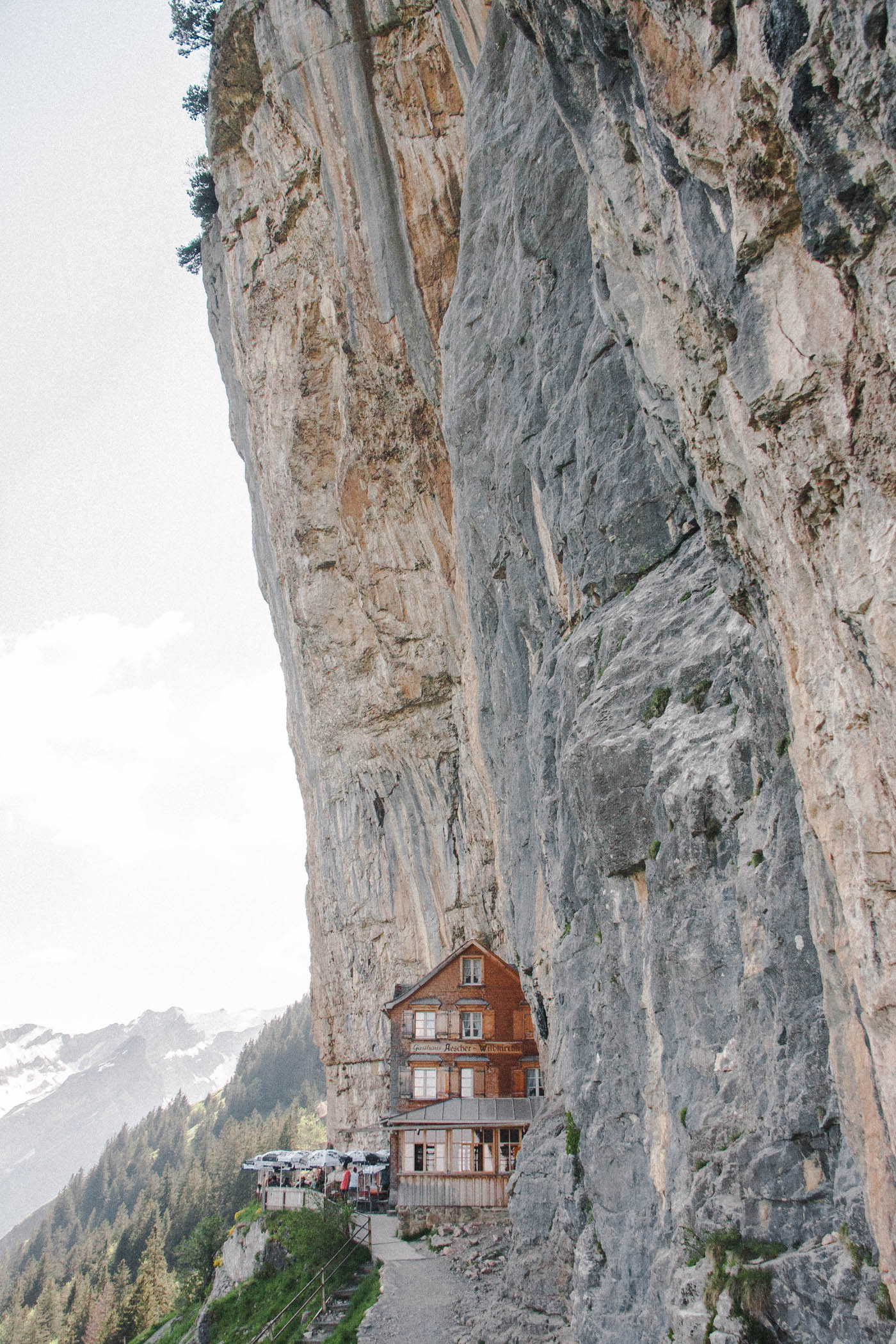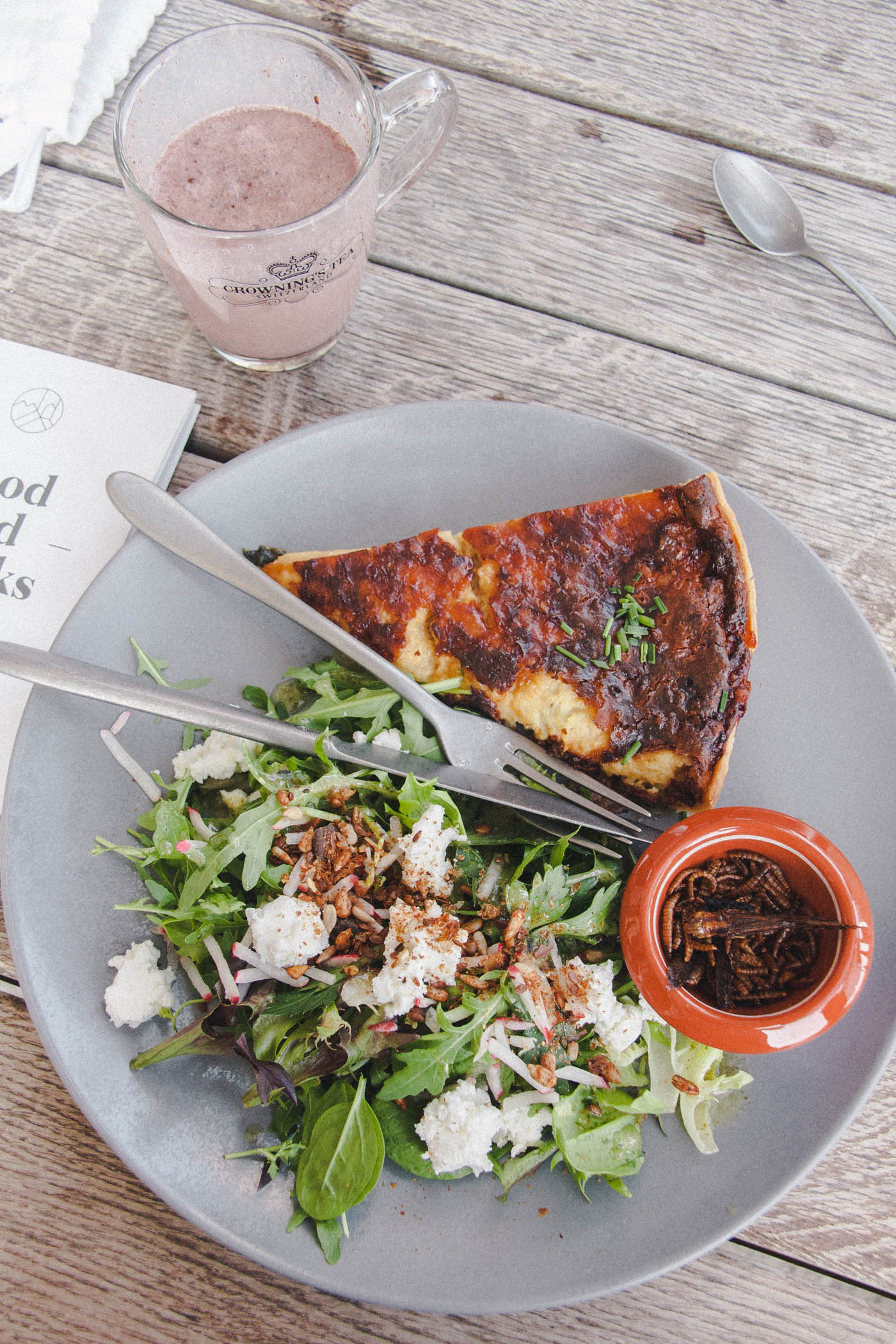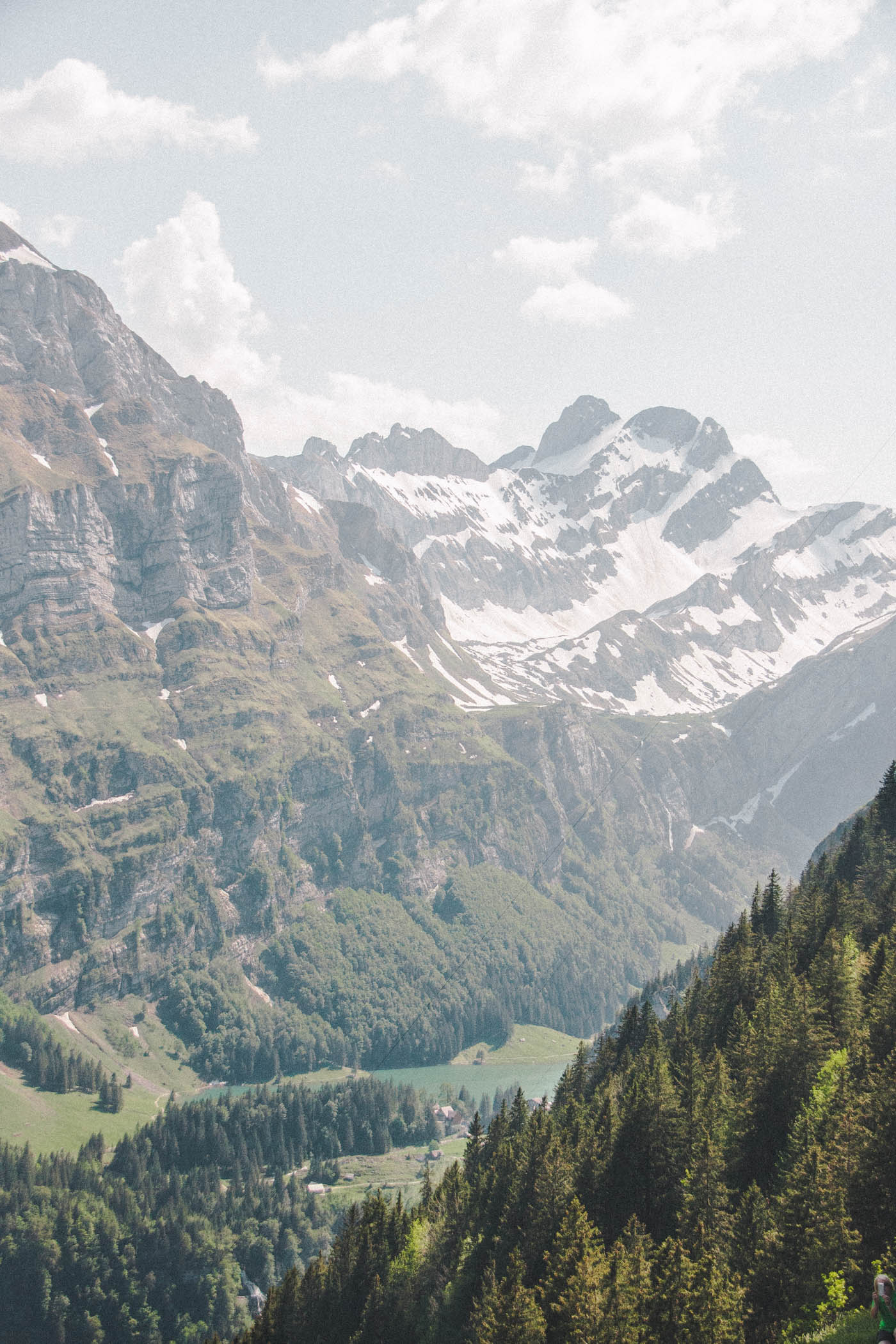 Once down the mountain, we drove through Austria and Lichtenstein, just to pick up a couple more counties (although I need to go back, because I didn't really experience them), and then it was back to the hotel to pack up for our flights the next day.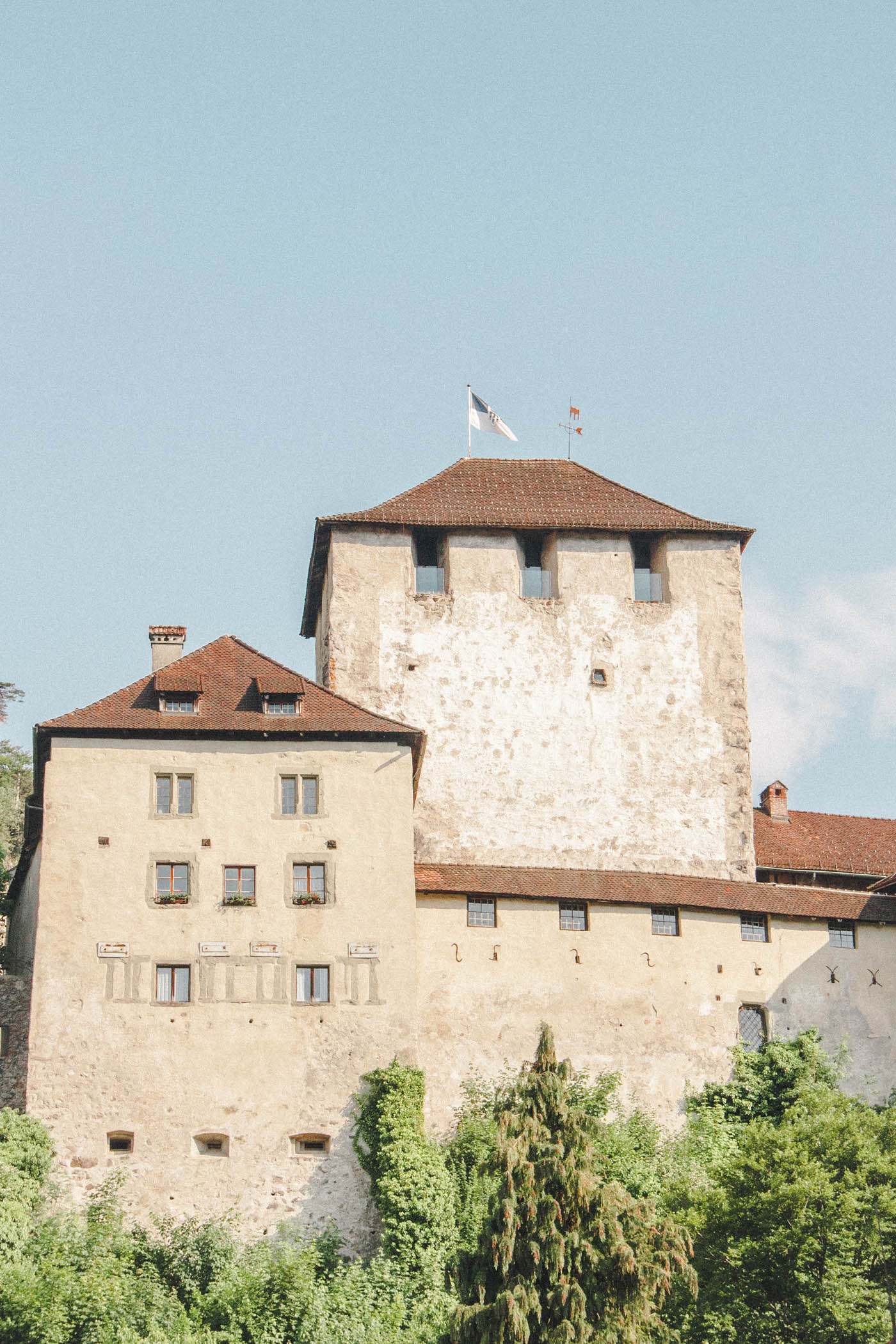 It was hard to say goodbye to such a beautiful place, and I hope to be back someday soon!
If you guys have any other questions about my trip, please comment below!  Also, check out my Instagram to see the highlights "SWISS I" and "SWISS II" on my profile, which includes videos!