Whew.  It's been such a crazy few weeks since getting back from Europe…I can't believe it's taken me this long to sit down and write this travel guide!   I have so much to tell you guys about Switzerland, it was the trip-of-a-lifetime.
I joined my uncle, aunt, and cousins for a week and a half in this magical country.  There was so much to do and see, we made a comment the second day that we could go home happy if we had to leave that moment.  And that was every. single. day. of. the. trip. …
After taking a quick IG poll, I found that you guys wanted me to go more in-depth about my trip, so breaking it up in a few posts might be good.   So, this is part I, where I will cover the first half of our trip:  Montreux, and Zermatt.  Part II will cover the Jungfrau Region and our time in Zurich.
MONTREUX
We flew into Geneva, and after a long time trying to find each other at the airport with limited wifi, we were finally packed into our tiny european car, headed for Montreux.  I am super grateful that we drove a car all around the country; it gave us a lot of freedom to roam almost anywhere we wanted to.
We stayed at the Hotel Fairmont Le Montreux Palace.  Without a doubt, one of the loveliest places I have stayed.  Our rooms were classical beauties that overlooked the lake and the alps just beyond.  Much of the time that we spent in our rooms was spent relaxing on the balconies, soaking in Switzerland.
DAY ONE
–  Hotel Fairmont Le Montreux Palace
–  Chillon Castle
–  Gruyeres
One of my favorite things about any hotel stay is the breakfast, and there is no breakfast quite like the Fairmont's.  We enjoyed croissants and crepes, apricots, fresh pressed orange juice, Swiss butters, jams of all flavors, fish, cheese boards…you name it, it was there every morning.
After breakfast we walked a mile up the coast of the lake (in the pouring rain), to see the beautiful Chillon Castle.  The first part of the castle was built in the 10th century!  It was one of the coolest buildings I have ever been in.  I didn't realize until I was there that Byron's "The Prisoner of Chillon" was about Chillon castle!  We even saw a place in the dungeons where he had carved his name while on a visit to the castle.  Pretty neat!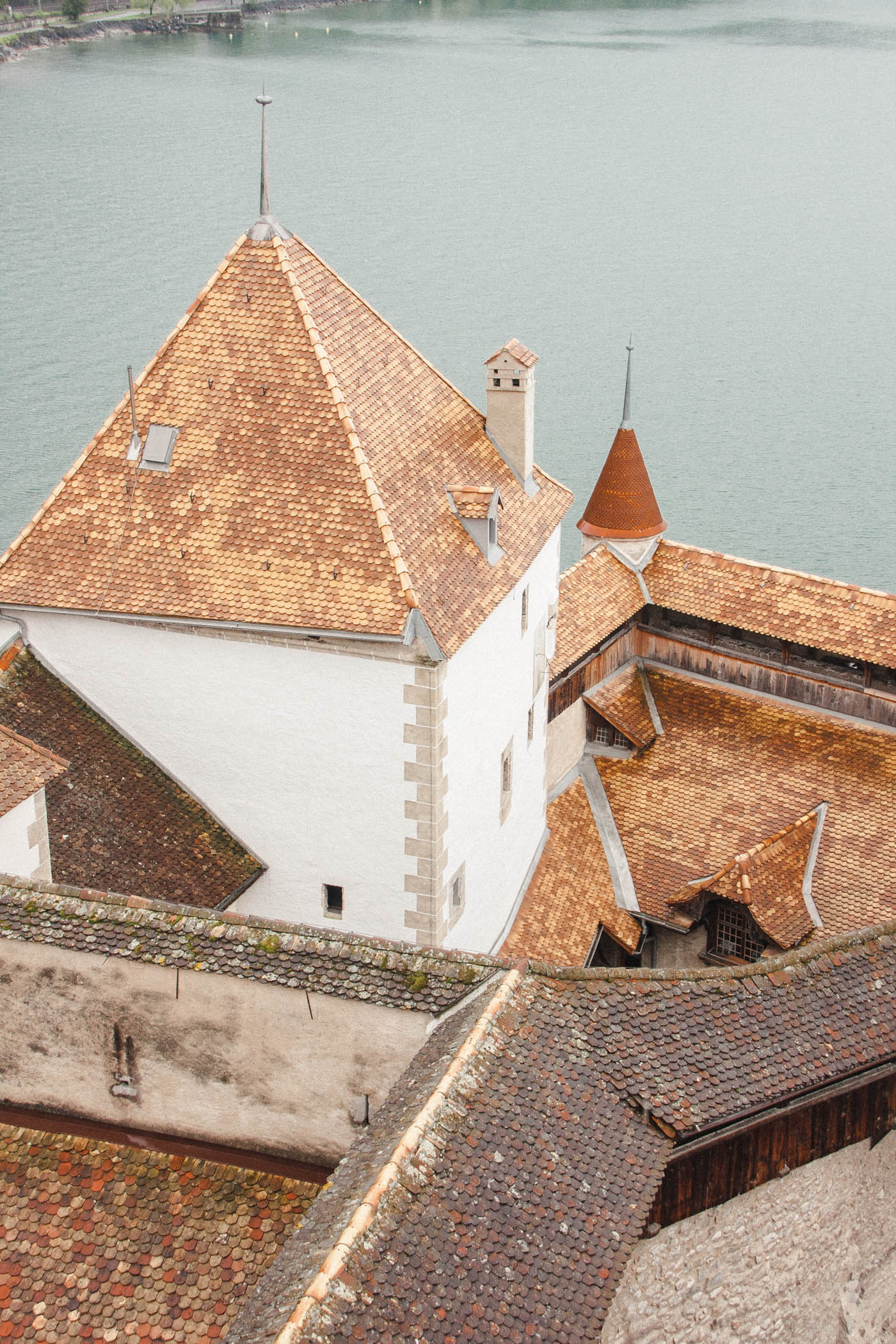 For dinner, we drove over to the town of Gruyeres.  We did our best to communicate in both French and German to the waitress…let's just say we weren't as well prepared as we should have been, as everything ended up in hand gestures by the end.  Just above the restaurant we could see Gruyeres castle, so after our meal, we started up that way to check it out.  At the top of the hill, next to the castle, is a little, old street right beside the castle, with the most beautiful buildings all lined up.  Everything was closed because it was nearly 9 o'clock, but the sunset was amazing!
ZERMATT
DAY TWO
–  Tourbillon Castle
–  Zermatt
–  Chesa Valese
We bid Montreux farewell and headed out.  Our next destination was the place I was the most excited for:  Zermatt.  I have been itching since birth to get to a traditional alpine style town nestled in the mountain of Switzerland, and I finally got my chance!  Zermatt has been on my bucket list, and I just kept praying over and over again that we would be able to see the Matterhorn at least once during our three night stay.
On our way to the train station in Täsch, and stopped at Sion and hiked up to the ruins of Tourbillon Castle.  Very worth it.  When you get to the top, there is no ticket stand, no docents, no caretakers, nothing…nothing but ancient ruins with medieval music playing through a loud speaker hidden somewhere in a bush.  I loved it!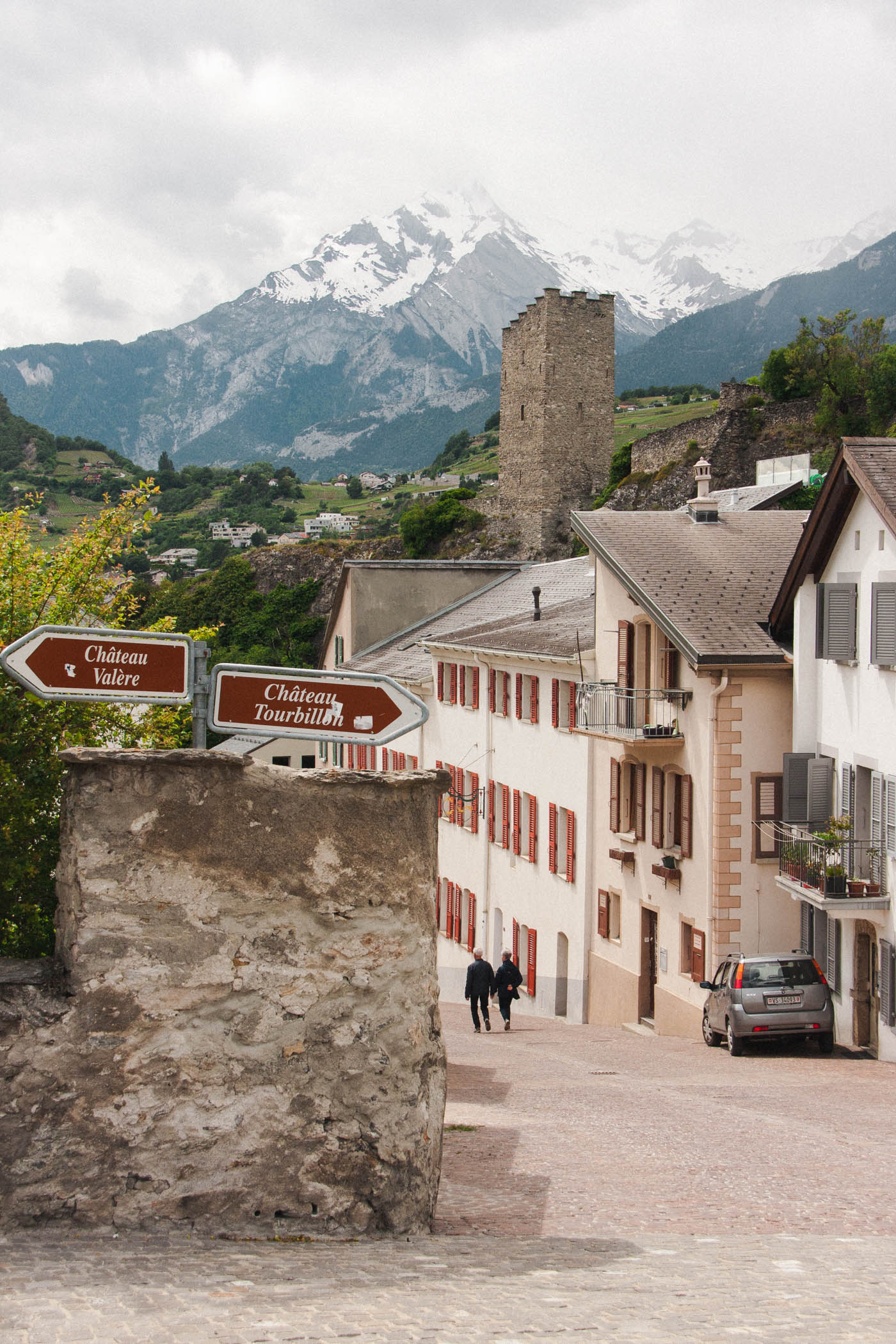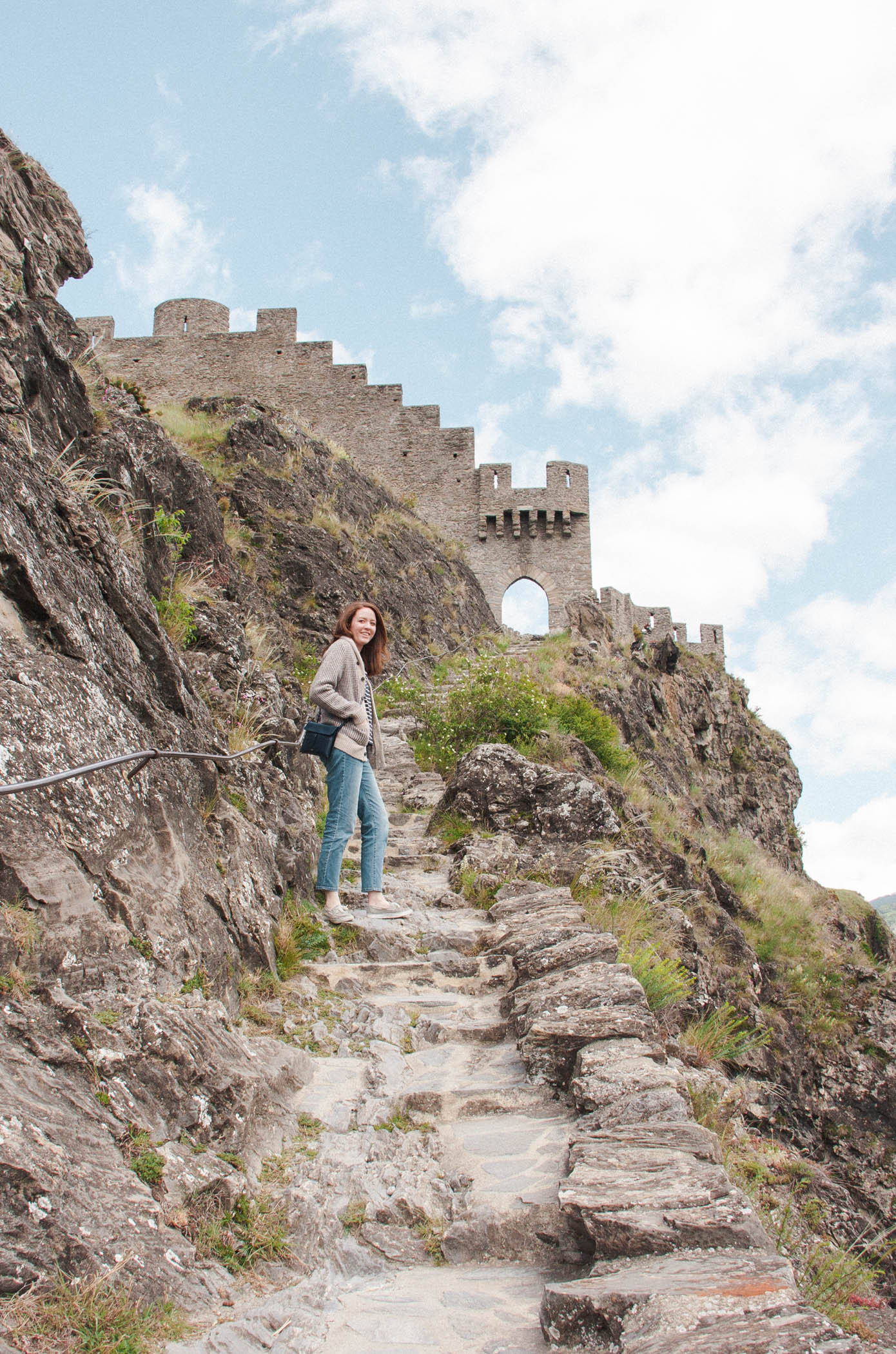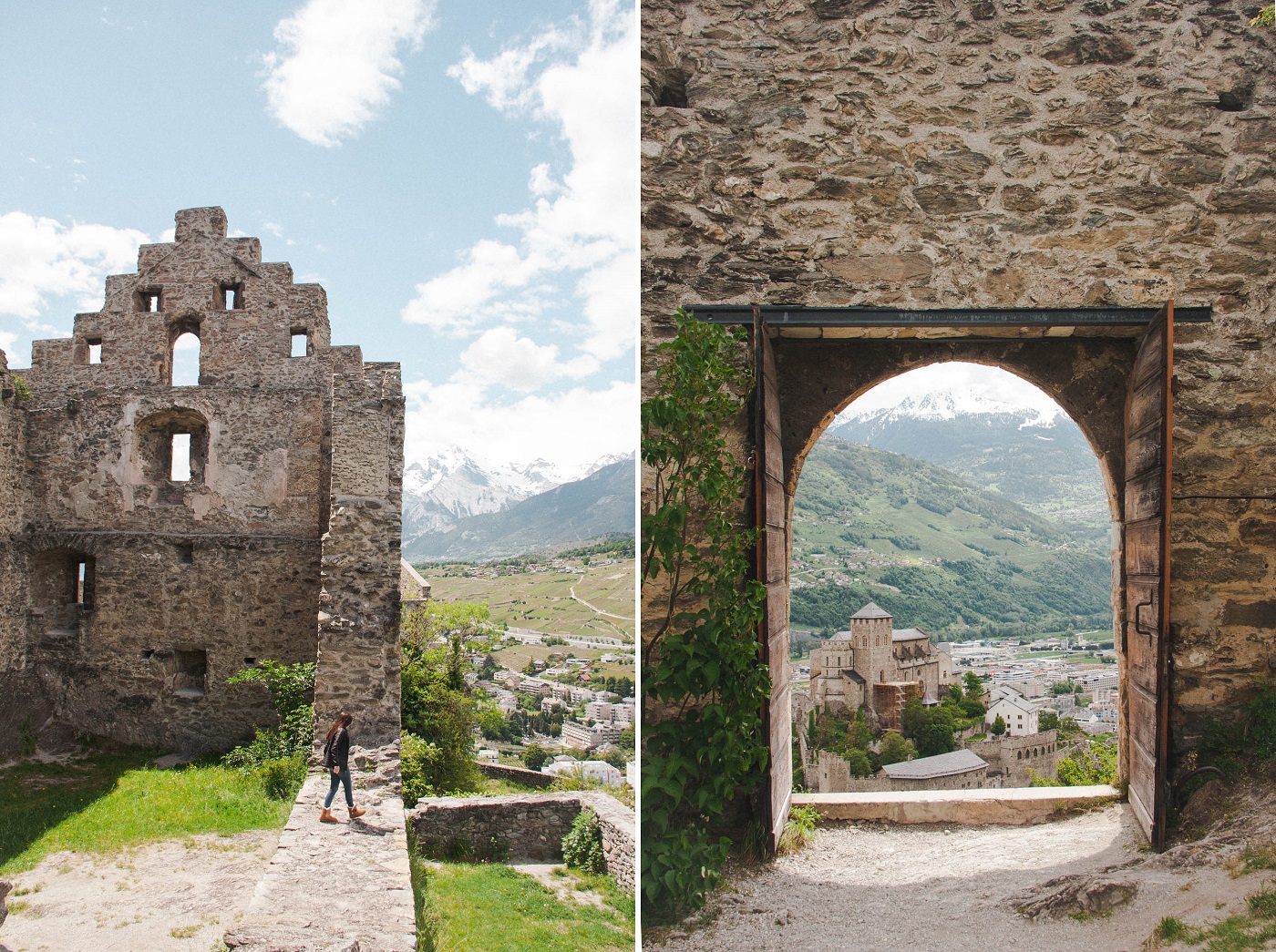 In Täsch, we ditched the car, and took the train into the car-free town of Zermatt.  As first I thought that some towns in Europe were car-free simply to keep the roads less polluted…but in Switzerland it just means that there are literally no roads to going to the town.
When we got there, I immediately looked toward the Matterhorn.  It was shrouded in clouds, so I kept praying…
We stayed at the beautiful Chesa Valese hotel on the east side of the river.   The only approved transportation in the town are these tiny shuttles and taxis, so we squeezed into Chesa Valese's shuttle,  and it transported us to the most beautiful alpine chalet that would be our home for the next three nights.  I can't say enough good things about Chesa Valese.  Our every need was met, the staff was so outgoing and friendly, and made us feel right at home, our rooms had the most incredible views!…I think I actually preferred the view from my room, and mine wasn't even facing the Matterhorn!
As soon as I got into my room, I threw the windows open so I could feel the mountain air and hear the birds chirping.  Not long after, what sounded like every bell in every church in town started ringing.  They echoed through the valley and off all the mountains, continuing on for about 10 minutes.  It was my favorite moment of the entire trip.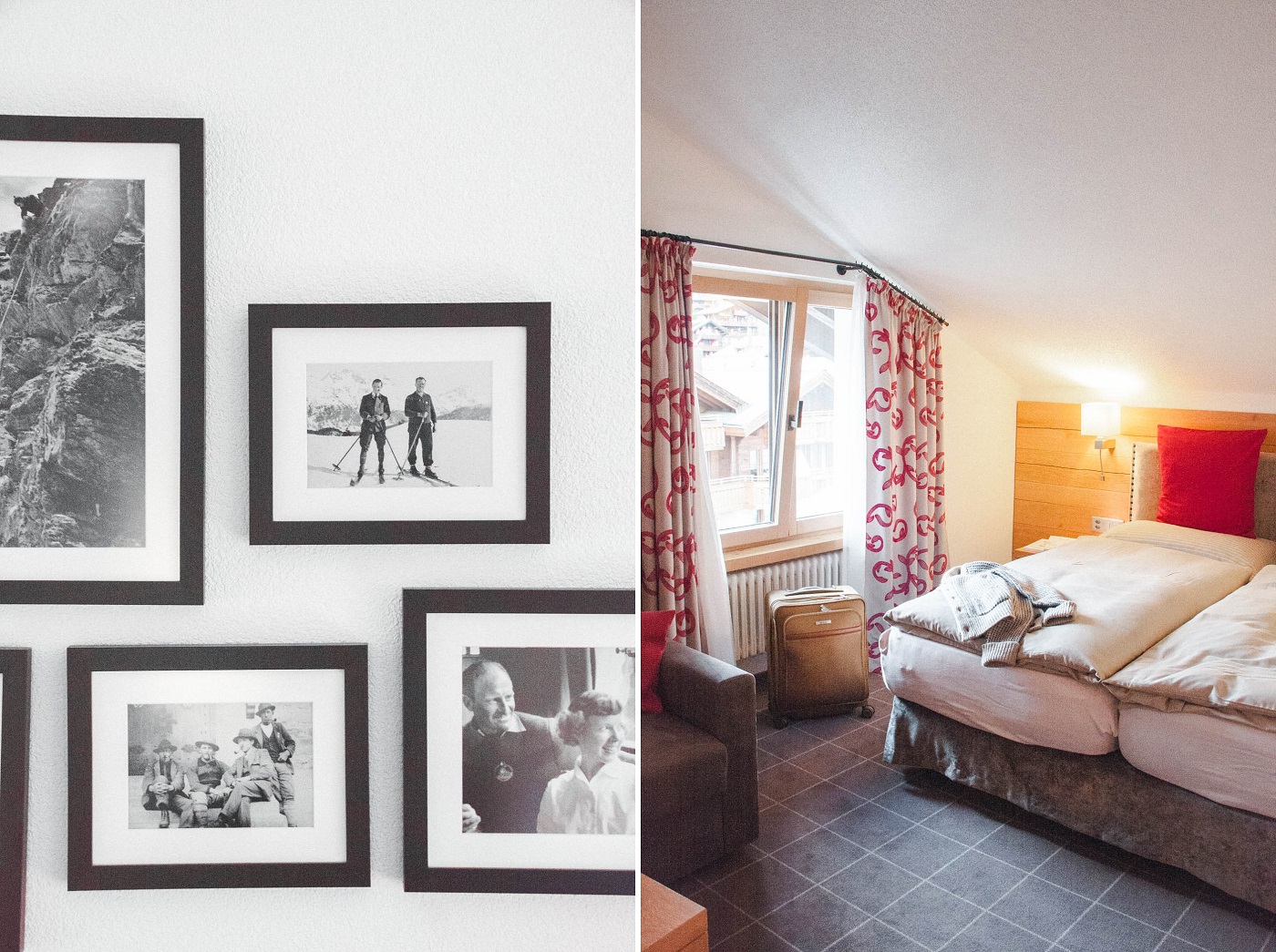 DAY THREE
–  Chesa Valese
–  Gornergrat Bahn
–  Gornergrat
Day three we woke up to a clear day, and what had popped out from behind the clouds?…  The Matterhorn was finally visible!  We were so happy!  It stayed that way for the rest of our time there; I have so many photos of the Matterhorn, you would not believe…
We took the Gornergrat Bahn (the train) up the mountain to Gornergrat.  Gornergrat is part of the ski area 10285′ up, and its draw is the unparalleled views of the Matterhorn just across the way.  We spent the day up there snacking on pretzels, hot chocolate, and cake, watching the paragliders and skiers, and saying "wow" and "this is so cool" over and over again.  It was one of my favorite days of the trip.  It was fun to be able to get a "winter in Switzerland" experience at the start of the summer season.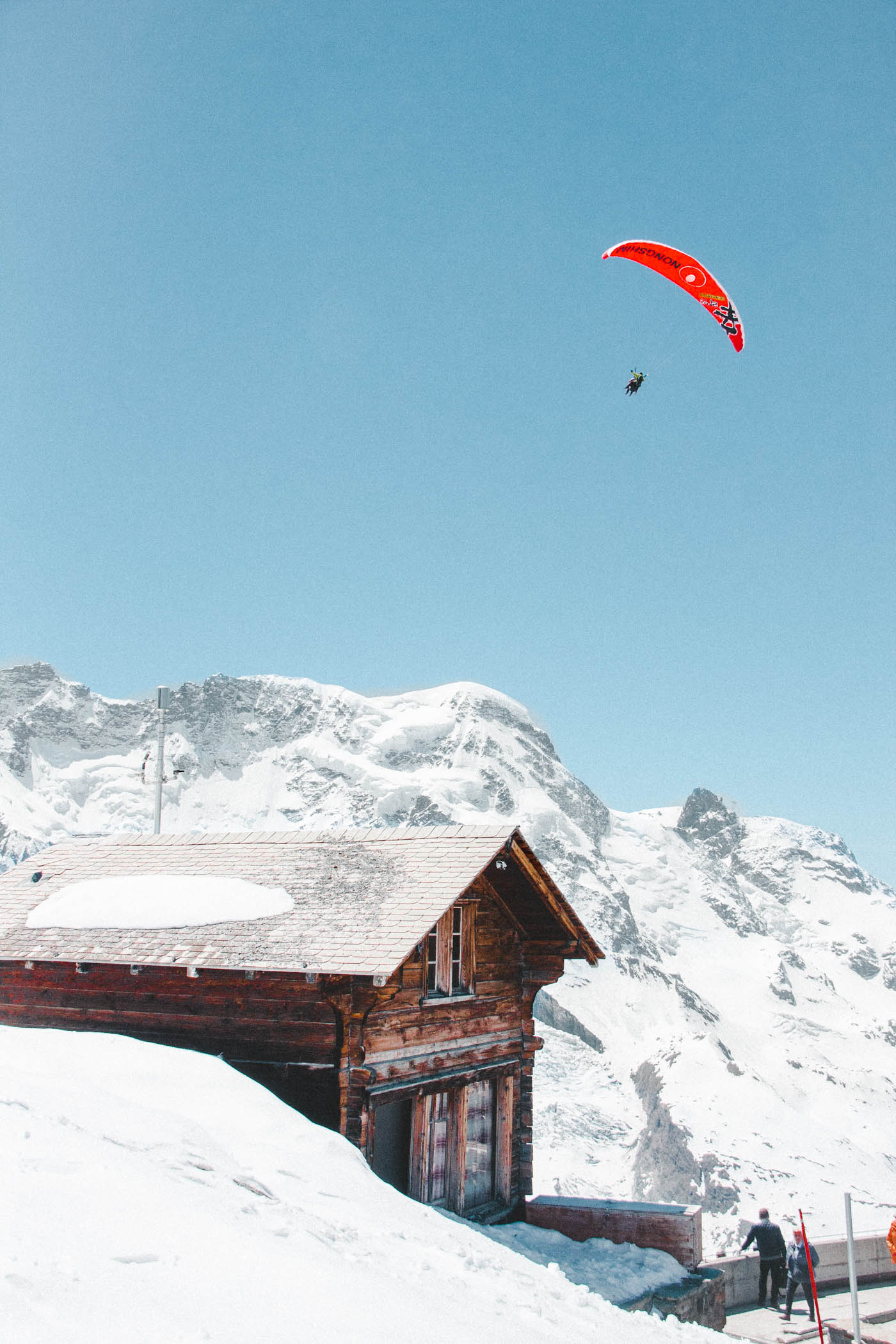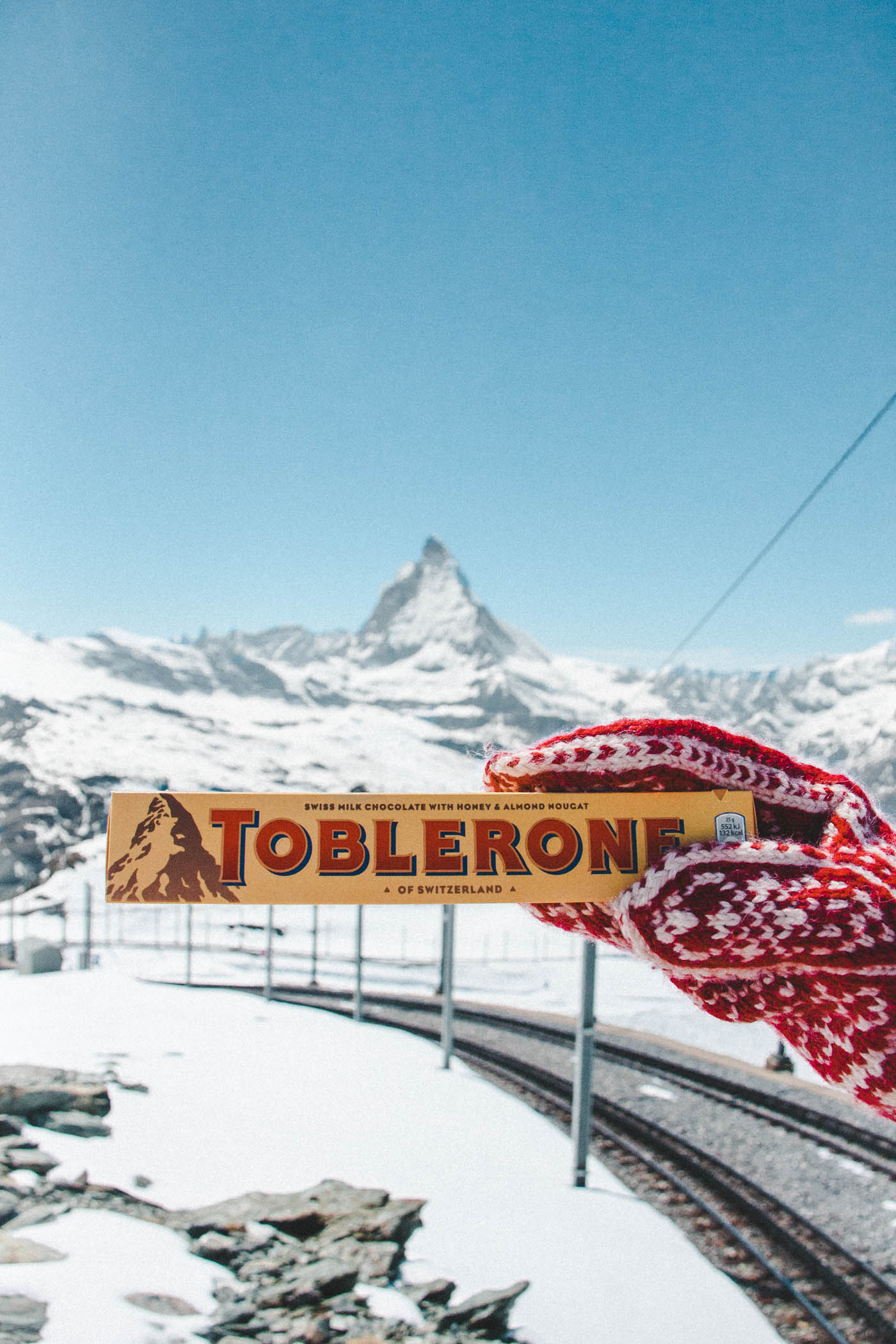 DAY FOUR
–   Matterhorn Trail
–   Zmuttgletscher
–  Gorner Gorge
–  Swiss Chalet
When in the mountains, hike.  Day four started with us throwing on our backpacks and hiking shoes and heading up the Matterhorn Trail.  We didn't expect to go very far, as our original plan had only been the Gorner Gorge, which was back down the hill…but we just kept said "let's keep going a little further", "let's keep going a little furthur", and that's when we saw a sign that said "restaurant".  There isn't any bigger incentive for me than food, and suddenly I was all energy, powering toward the small town of Zmuttgletscher, high in the hills above Zermatt.
There was only one restaurant open, Z'Mutt, with hikers as the only patrons.  It was wonderful!  We enjoyed traditional rösti for the first time, which is potato in hash brown form, usually served with a sausage…delicious!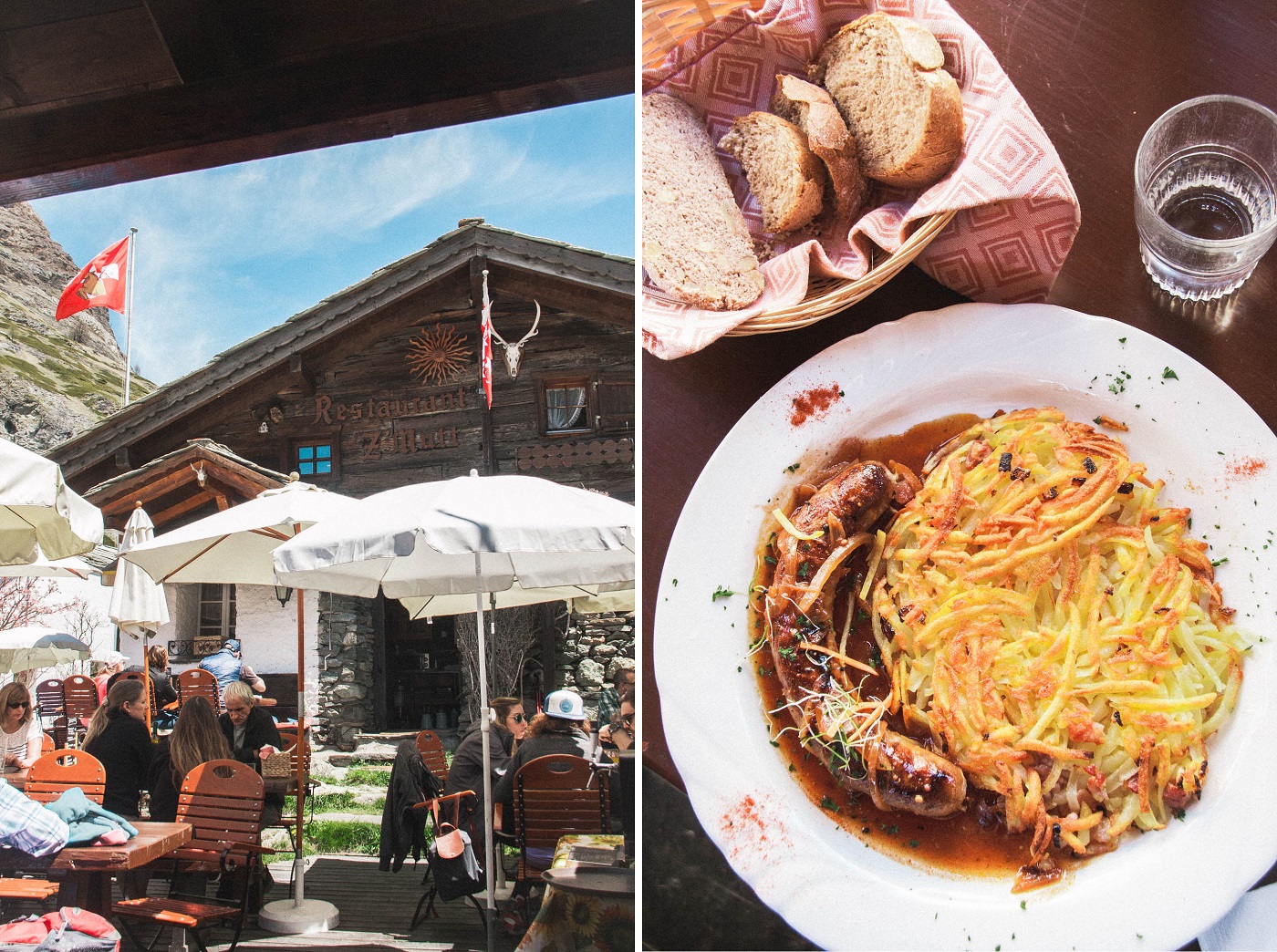 After lunch we headed back down the mountain and turned off for the Gorner Gorge.  We walked along the wooden walkway, and up and down the stairs, overlook the beautiful river and waterfalls flowing through the hillside.
Soon it was time for dinner, and we had made reservations with Swiss Chalet, for this was the night we were determined to have fondue!  They had a few different flavors, and we went with the bacon and onion, which did not disappoint!  It was the perfect way to end our time in Zermatt.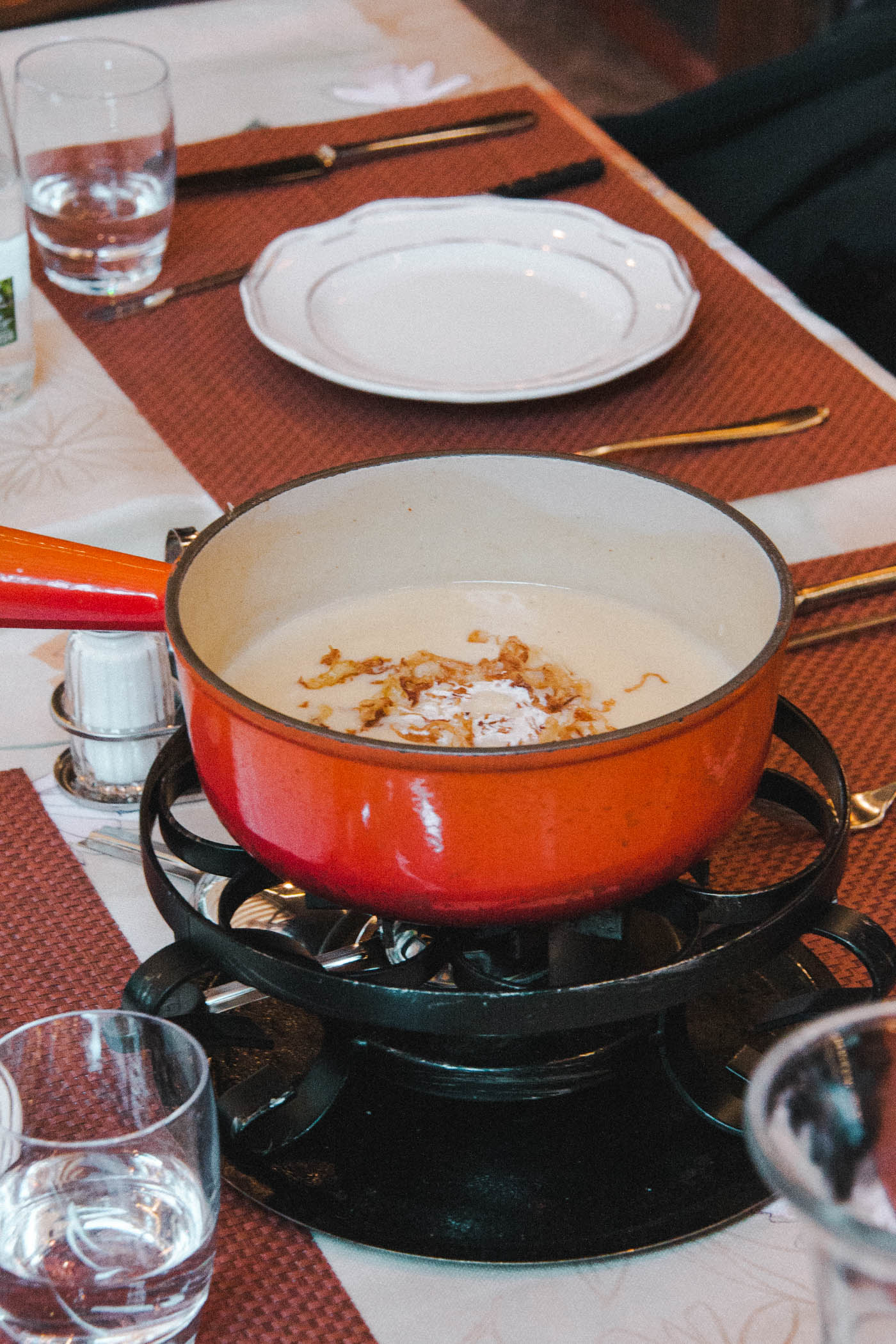 Next up:  The Jungfrau Region!