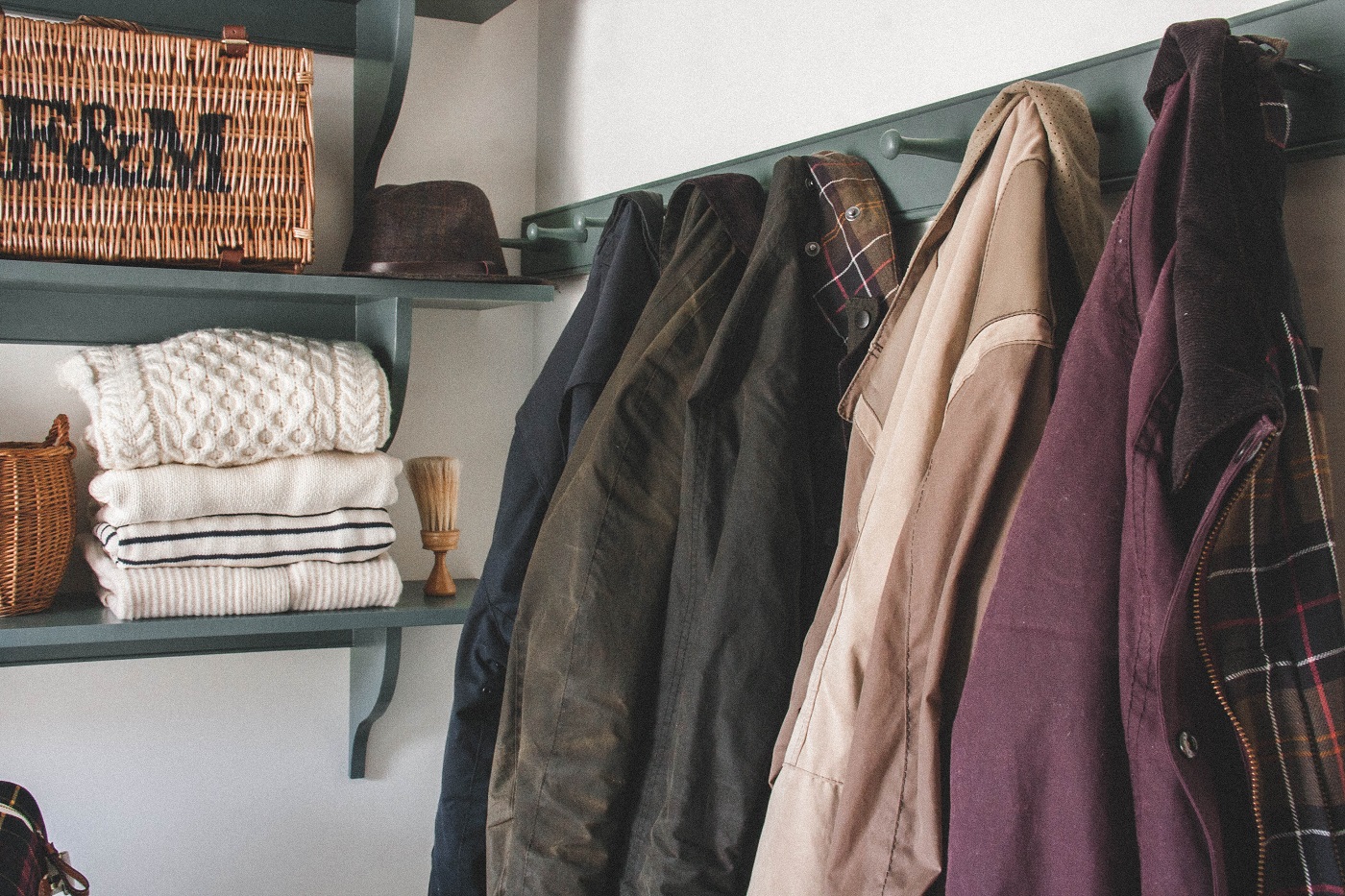 I'm finally making good on my promise to my IG followers by writing this post all about my favorite brand, Barbour!  I understand that the idea of buying a wax jacket can be a bit intimidating, and so many of you have questions and concerns about what owning a Barbour means.
I apologize in advance for the long-winded-ness of this post… I thought about breaking it up into a short series, but in the end I decided that having all the information together in one post is the best way to go about it.  My focus for this post will be on the wax jacket, primarily, the classic line, which is what comes to mind when one hears the word "Barbour".
The classics are a core collection created in the 80s, that truly epitomize the English country style.  I'll be talking brand history, jackets and details, sizing, care and maintenance, where to find Barbour, and answering some frequently asked questions.  I am hoping to alleviate any fears that are holding you back from buying a Barbour, as well as helping you to better know and understand this wonderful brand that is very dear to my heart.  Let's dive in…
HISTORY and WARRANTS
Barbour is an old brand, going on 125 years.  It was created by John Barbour back in 1894, in South Shields, England.  It started out supplying dock workers and fisherman with waterproof jackets made from oil cloth, or wax cotton…designed to take on the harsh weather conditions that men in those professions would have to work in.  It evolved from there, even introducing their motorcycle inspired "international" line in the 1930s.  Now, the still-family-owned brand boasts an impressive collection of beautiful waterproof-breathable jackets, mid layers, footwear, and accessories, and has done collaborations with brands such as Land Rover, White Mountaineering, and Adidas.  The wax jackets have been worn by everybody from Steve McQueen, to James Bond…not to mention almost the entire British royal family!
Speaking of the royal family, Barbour also holds all three royal warrants.  Royal warrants have been been issued for centuries to companies that supply goods or services to the royal family.  The Queen, Prince Phillip, and Prince Charles can each issue a warrant.  It is a prestigious honor, and Barbour is one of only eight companies in the world that holds all three of the royal warrants!  This tells you a lot about the quality of the clothing!
THE WAX JACKET
What is a wax cotton jacket, exactly?  It is an extremely simple and smart design, when it comes down to it.  The Barbour jacket is made out of Egyptian cotton and finished off with a wax coating which resists the wind and the rain.  When you stand in the drizzle with your wax jacket, you will see the raindrops simple bead up on the jacket, and not soak through at all.
The classic wax jackets are still made in England today, and within that line you can find jackets in Olive, Sage, Navy, and Black. There is one classic style for women, and four for men.  All of the classics have these quality features in common:
HANDWARMER POCKETS:  These moleskin lined pockets are designed to keep your hands close to your body so that they stay warm on cold, wet days in the English countryside.
BELLOWS POCKETS:  These large front pockets can hold everything!  I always put chocolate in mine!
TARTAN LINING:  Each color within the classic line has it's own specially designed tartan lining in the jacket.  The olive has the classic tartan, the sage has the ancient tartan, the navy has the dress tartan, and the black has the modern tartan.
CORDUROY COLLAR:  The corduroy collar is designed to keep the raindrops running down and away from you, keeping your neck dry.
TWO WAY ZIPPER:  These heavy duty zippers are basically indestructible, and zip two ways to protect the jacket from any strain put on it when you sit down.
BRASS SNAPS:  The heavy duty snaps are built for strength and durability…a great luxury feature.
SNAPS UNDER THE COLLAR:  Just under the corduroy collar are snaps for the addition of a Barbour wax hood.
INNER ZIPPER:  All the classics have an inner zipper, so a quilted liner can be added for extra warmth.
Now let's talk the different wax styles.
WOMEN'S CLASSIC
The women's classic Barbour is the Beadnell.  While the men's jackets are a bit simple in the front, the Beadnell has princess seams for a bit of a feminine touch.  The Beadnell also has the tartan just inside the cuff so you can turn them up and show off the lovely plaid.
SIZING:  most ladies size up in Barbour one size.  I wear a U.S. 4 normally, and a U.S. 6 in Barbour.  I wear a size U.S. 6 Beadnell, so it fits true to your Barbour size.  This jacket is designed to have a boxier fit, so don't worry if you think it doesn't look slim cut, it's not supposed to be.  It's the perfect fit for throwing on over a warm sweater.  Also keep in mind that if you get a liner to zip into the jacket, that will take up space, hence the relaxed fit.
(SIDE NOTE:  If you are buying this in stores, the size on the ticket is the U.K. size for women.  Generally the store will have the U.S. size on the hanger, but if not, just drop down two sizes:  U.K. 10=6,  U.K. 6=2, etc.)
(ALSO:  If you are interested in buying one of the International styles, they fit very slim.  Most women size up one or two sizes from their Barbour size.)
Other popular non-classic wax styles for women are the Utility and the Acorn.
MEN'S CLASSICS
The men's classics are sized by chest size.  I find that most men stick with the same size as their suit jacket, so the men's run decently true to size.  (There is no U.K. to U.S. size difference in men's jackets.)
THE BEDALE:  The Bedale is the most popular of the men's classics.  It is the shortest in length, and is the men's version of the ladies Beadnell.  It has wonderful knitted storm cuffs to keep out the wind and rain too!
THE BEAUFORT:  Slightly longer is the Beaufort.  It has a large game pocket in the back for small game when you are out shooting…of course!
THE BORDER:  Even longer is the Border, and this one is designed to fit slightly bigger so it can be worn over a suit.
THE NORTHUMBRIA:  Longer still is the Northumbria, also designed to be worn over a suit. (This is my favorite men's classic!)
(NOTE:  When a gentleman tries on a Barbour classic for the first time, he may be wondering why the zipper is on the wrong side.  This is because if he were a English gentleman being dressed by his valet way back in the day, the zipper would be on the correct side for the person dressing him.  Awesome!)
(ALSO:  If you are interested in International styles, they are meant to be a slim cut, but you still may have to size up.)
Other popular non-classic wax styles for men are the Ashby (which I have, and it is my favorite! It is basically a slim-fit classic style, so it works for women too!), the International Original Wax, as well as the Beacon Sport, otherwise known as the Bond Jacket, which can be seen on Daniel Craig in Skyfall.
SIZING
As mentioned before, women's sizing is different from U.K. to U.S.  The men's U.S. size will be no different than the U.K. size (with the exception of button-down shirts).
Women generally size up one size and that is their "Barbour size" as a rule, although with slimmer cut jackets, such as the international styles, they may size up even more.
If you have broad shoulders, keep your eye out for the jackets with undefined shoulders, such as the classics.  I have broader shoulders, and the classics are perfect for me because of this!
Also, if you are longer or shorter, you might not fit the jacket in length, but you can send it in for alterations.  More on that in the next section.
In general, I recommend going into a store if you can, and trying on the jackets.  Every Barbour jacket fits differently, every. single. one.  If you are near a full price store, or a Nordstrom, Orvis, Bloomingdales, or Macy's that sells Barbour, it never hurts to stop by before making the purchase.
CARE, REPAIRS, and ALTERATIONS
How does one care for their wax Barbour jacket, then?  You always want to keep this in mind:
DO NOT WASH!  DO NOT DRY-CLEAN! YOU WILL RUIN YOUR JACKET!
If you wash your wax jacket, it will strip the wax, and it will never be able to be rewaxed, effectively ruining the jacket.  If you get dirt or mud on the jacket, that's what the wax is for, to keep the cotton clean.  Simply take a damp sponge or towel, and gently wipe off the dirt.
That being said, this means you need to keep on top of rewaxing your jacket, otherwise the wax will wear off, expose the cotton, and then the cotton will get dirty.  You need to rewax your jacket every 1-3 years.  You can send it to Barbour's repair and reproof facility in North Carolina, and they will have it fresh and new looking within a couple weeks (the turnaround will be a bit longer in the fall/winter months, since that is the busy season).  If you are feeling adventurous, you can buy the can of Barbour wax and give it a go yourself!  This video shows you how to rewax a jacket yourself.
So how do you know when your jacket needs a rewax?  A good indication is a general lightening in color of the entire jacket.  Also, there may be an unevenness in color (see the photo above for this).  Raindrops that start to soak in rather than bead up is another good sign that your jacket is due for a reproofing.
The North Carolina facility also does repairs, from a small patch to cover a whole, to an entire panel replacement for larger tears.  They alter jackets as well, so if you are like me and have long arms, or the opposite, you can get the arms and body of your jacket lengthened or shortened.  The body can also be let out, or taken in.  You can even send your jacket in to be customized with leather trimming, have elbow patches added, and even have it monogrammed!  They have a huge book of things you can have done to your jacket, it's amazing!
WHERE to FIND BARBOUR
Barbour has ten full price stores:
BARBOUR NEW YORK
BARBOUR SOHO
BARBOUR ARDMORE
BARBOUR GEORGETOWN
BARBOUR PHILADELPHIA
BARBOUR CHICAGO
BARBOUR PRINCETON
BARBOUR BOSTON
BARBOUR NEW HAVEN
BARBOUR WOODCLIFF LAKE
There are also five Outlets:
MILFORD, NH
KITTERY, ME
MERRIMACK, NH
NIAGARA FALLS, NY
CHICAGO,  IL
You can also find Barbour at Nordstrom, Orvis, Bloomingdales, Macy's, Tuckernuck, and more.
BEWARE of online Barbour "stores" or "outlets".  As of right now, Barbour has a website where you can see the products, but it does not have an e-commerce site, and there are no online outlets.  If you find a website, and are not sure that it's on the up-and-up, THIS PAGE on Barbour's website has a place where you can type in the website you found the Barbour on, and they will tell you if it is legit or not.
FAQ
Q:  How often do I need to get my jacket rewaxed, and how can I tell if it needs a rewax?
A:  You will need to get your jacket rewaxed every 1-3 years, depending on how often you wear it.  If you are wearing it every day, you will need to send it in once a year.  If you are wearing it only one or two seasons out of the year, every 2-3 years should be sufficient before it needs reproofing.  When your jacket becomes lighter in color, becomes uneven in color, or when the water starts soaking in rather than beading up, that is an indicator that your jacket needs to be taken in for a rewax.
Q:  How does the sizing work, as they seam to fit very narrow.
A:  Ladies especially have what I call their "Barbour Size", which is typically one size up from their normal size in other brands.  Sometimes the shoulders can be narrow, so don't be afraid to size up!
Q:  How warm does a Barbour keep you?
A:  I wear my Barbour through the New England winter.  That being said, I do not wear it outside for extended periods of time, and I almost always have a warm wool sweater underneath.  A Barbour classic is generally considered a "Fall weight" jacket, and has room for thicker midlayers.  Don't forget you can also "winterize" the classics with a zip-in liner for extra warmth.
Q:  Does it bother you that Barbour jackets don't tend to have a slim silhouette?
A:  It does not bother me at all, because they are meant to have a relaxed fit, and I love a good chunky sweater underneath.  If the more relaxed fit isn't your style, I recommend the more fitted Utility jacket, or an International style.
Q:  Are there any "more affordable alternatives" to Barbour?
A:  As of yet, I have not found anything that matches the quality, durability, and uniqueness of Barbour.  I understand that spending $400 on a jacket is a bit intimidating, but I will tell you that you are getting what you pay for, and, as long as you keep on top of the rewaxes, you jacket will last you the rest of your life.  However, if this is still too much for you to spend, yet you really want a Barbour, try stopping by one of the Barbour outlet stores in New Hampshire, Maine, New York, or Chicago.  Everything comes from the full price stores at the end of season to fill the outlet, and there are always great deals there!  Also, try end of the season sales on Nordstrom or Macy's for discounts on certain styles.
Q:  Is there any good way to clean a Barbour jacket, and what can I do about it gathering lint?
A:  Keep it up to date on rewaxes, and if you get the outside dirty, use a damp cloth or towel and gently wipe the dirt away.  A freshly waxed jacket tends to gather lint, but this will get better with time as the wax begins to age.  You may have to take a lint roller to it every time you wear it, but only for a while after its been newly rewaxed.
I hoped this was a helpful post, and answered all your Barbour questions!  If you have any more, please leave a comment below and I will help you out!