Tis the season for pumpkin everything!  One of my favorite parts about fall is all the smells and flavors you can only associate with this time of year.  Pumpkin spice, hot apple cider, or a warm apple pie with vanilla ice cream and caramel sauce!  A good pumpkin chocolate cheesecake can never go amiss either…  Yum!
I'm a big champion of the breakfast-for-dinner, and when I decided to make waffles for dinner this past Sunday, I knew that pumpkin was going to be the way to go, now that it's finally fall for reals!  I decided to spice them up even more by adding a brown butter sauce over the top.  I feel as though brown butter is one of the best kept secrets out there…so many people have never tried it, but I think it is one of the most flavor-packed ingredients ever!  It definitely gave these pumpkin waffles an almost toffee-like flavor, especially along with the maple syrup.  Enjoy!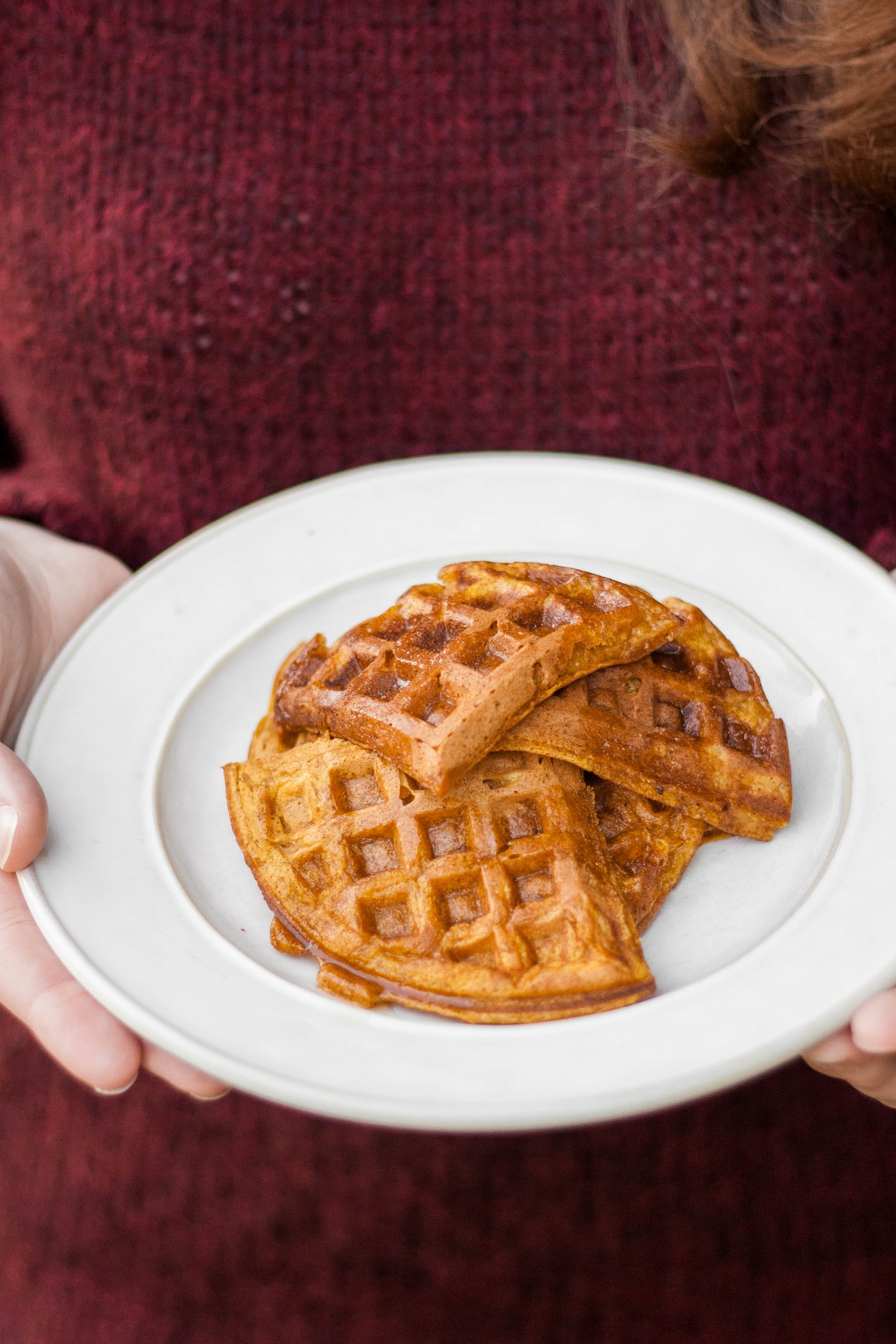 Spiced Pumpkin Waffles with Brown Butter Sauce
– Ingredients for Waffles –
4 Tbs. Butter
1 1/2 cups all-purpose flour
3 tsp. baking powder
1/2 tsp baking soda
1 tsp. cinnamon
1/2 tsp. ground nutmeg
1/2 tsp. ground ginger
1 large pinch of kosher salt
2 eggs
1 15 ounce can pumpkin puree
1 1/2 cups milk
1/4 cup packed brown sugar
– Ingredients for Brown Butter Sauce –
8 Tbs. butter
– Directions –
In a small saucepan over  medium/low heat, melt the 4 Tbs of butter.  Stir once in a while till it browns, not too brown, just a pretty red/chestnut color, about 5-6 minutes in all.  Set aside to cool.
In a large bowl, mix together all the dry ingredients except the brown sugar.  Add the brown sugar, eggs, pumpkin, milk, and cooled brown butter, and whisk with a large whisk until well blended and smooth.  Cook waffles according to the directions for your waffle maker.
For the brown butter sauce, melt the 8 Tbs. butter in a small saucepan, over a medium/low heat.  Stir every so often until it browns, about 10 minutes.  Pour into a small pitcher.
Serve by pouring a bit of the brown butter sauce over the top of the waffles, as well as a bit of warm maple syrup.  Enjoy!