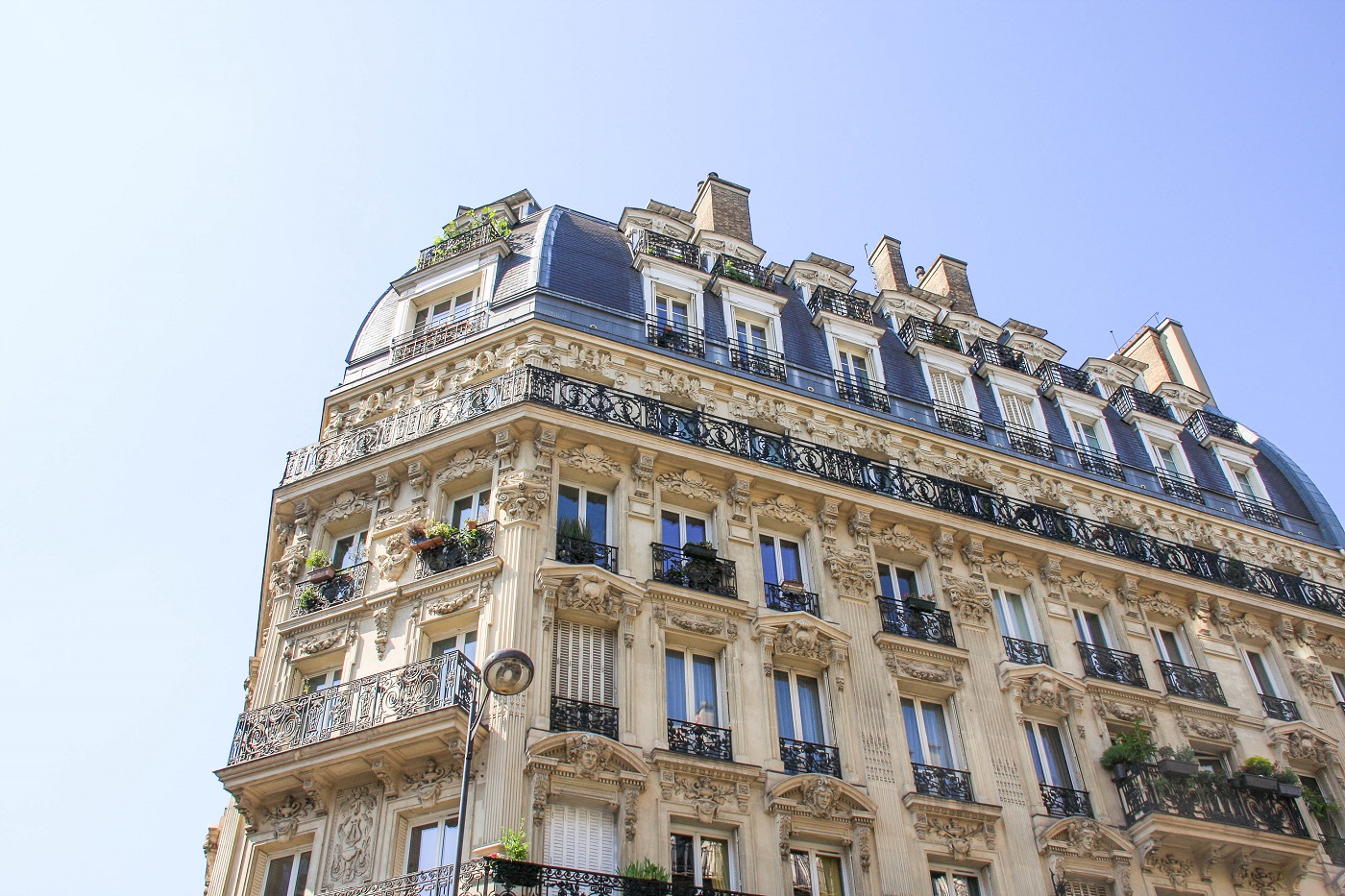 Our last day in beautiful France!  Paris is a gorgeous city, and I cannot wait to go back there one day!  (Just in case you missed them, here are my previous Paris posts: First Day and Second Day.)
This was the day we went to Versailles. This was such an incredible, wonderful day! This is also the only day on the trip that I wish I could redo differently…Don't get me wrong, it was still amazing, but looking back, there is a lot I would have done a different way, had I had knowledge of certain things.  So if you are ever interested in touring the Palace of Versailles and the gardens, keep reading!
We got a slightly slower start to our day that morning (that was our first mistake). We probably left our apartment around 9:00 for breakfast at Cafe De Flore, which was just a couple blocks from the apartment. Being such a famous spot, we expected it to be packed to the gills, and mostly all tourists, but we were pleasantly surprised to find inside practically empty, and almost everyone there seemed like a local!  I ordered hot chocolate and a croissant, my typical go-to French breakfast.  It was delicious!  After some confusion over where the bill had been left, we got another late start leaving the cafe for Versailles.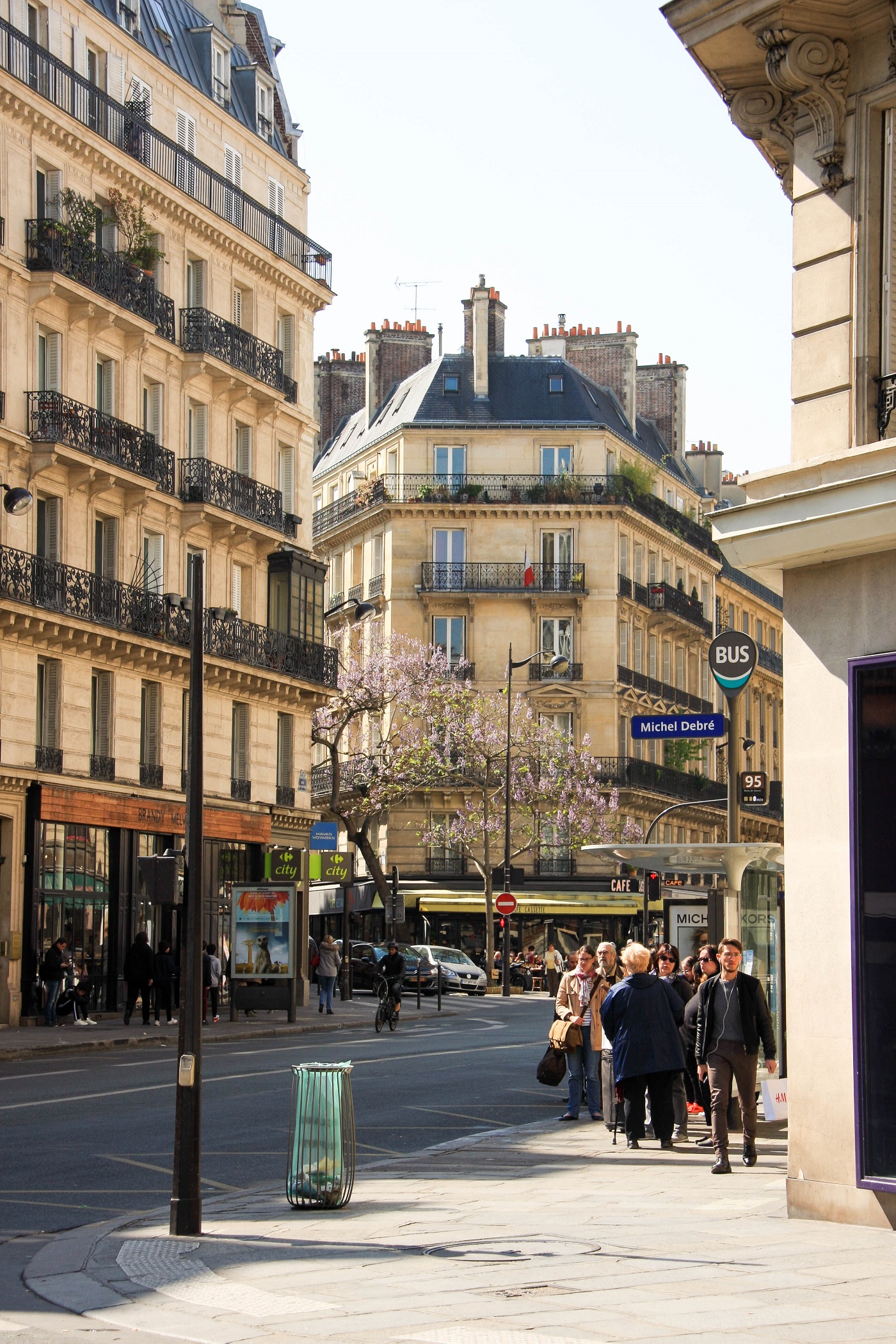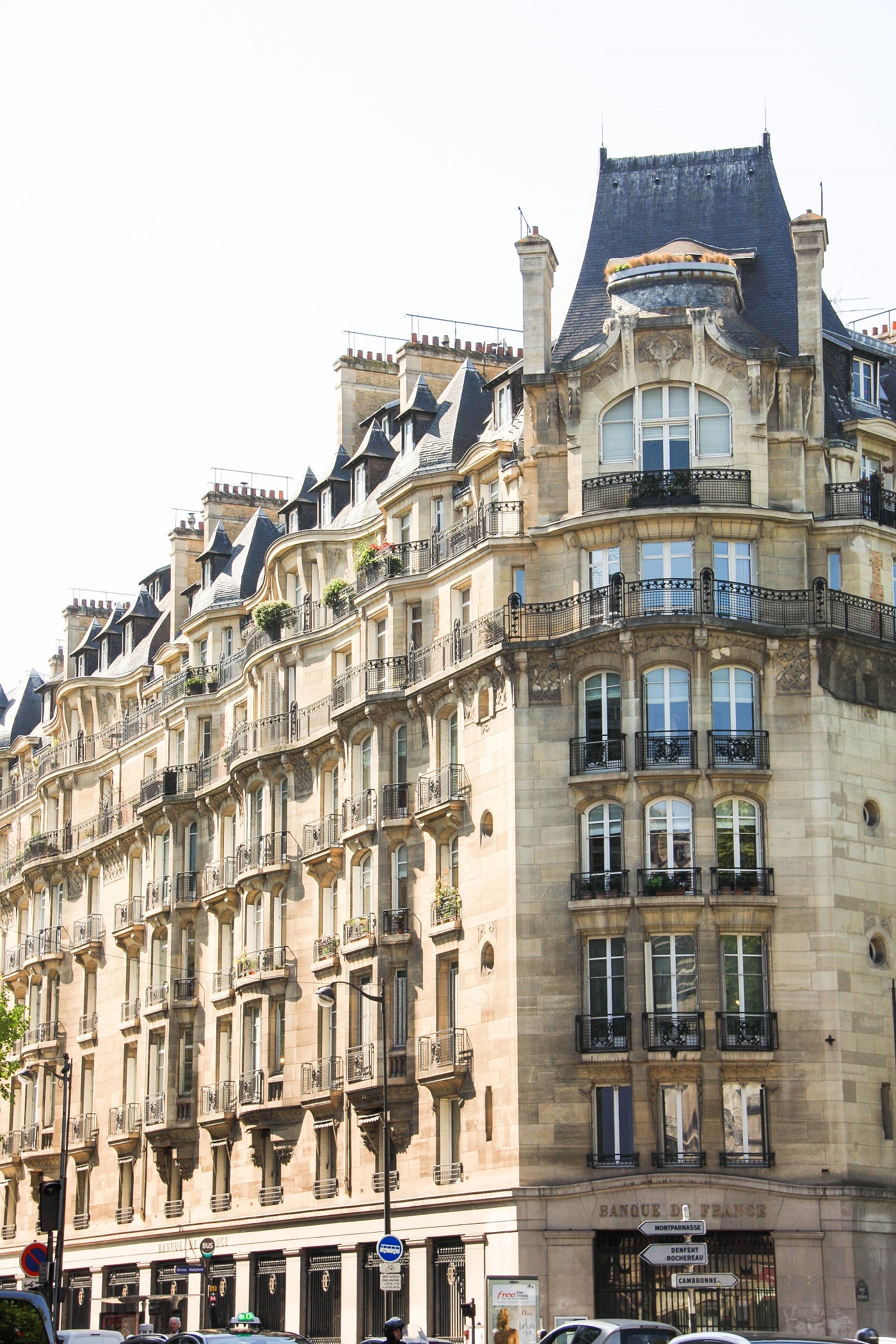 We headed west on foot with the intent of stopping first at a street market and then the train.  The street market was unexpectedly closed that morning, which we found out when we had almost arrived at it.  I was a bit bummed, since going to a street market in Paris was on my "must do" list, and we hadn't planned in event of a closing.  So I would definitely recommend if you want to go to a outdoor market, plan trips to several different ones, and more than likely you will make it to one of them while in Paris!
The Town
The town of Versailles is gorgeous, and a little more peaceful and warmer feeling than Paris, I thought.  I wish we had more time to look around, and I think next time I go, I will stay one night in Versailles to explore the town more, and get more time in the palace and gardens/park.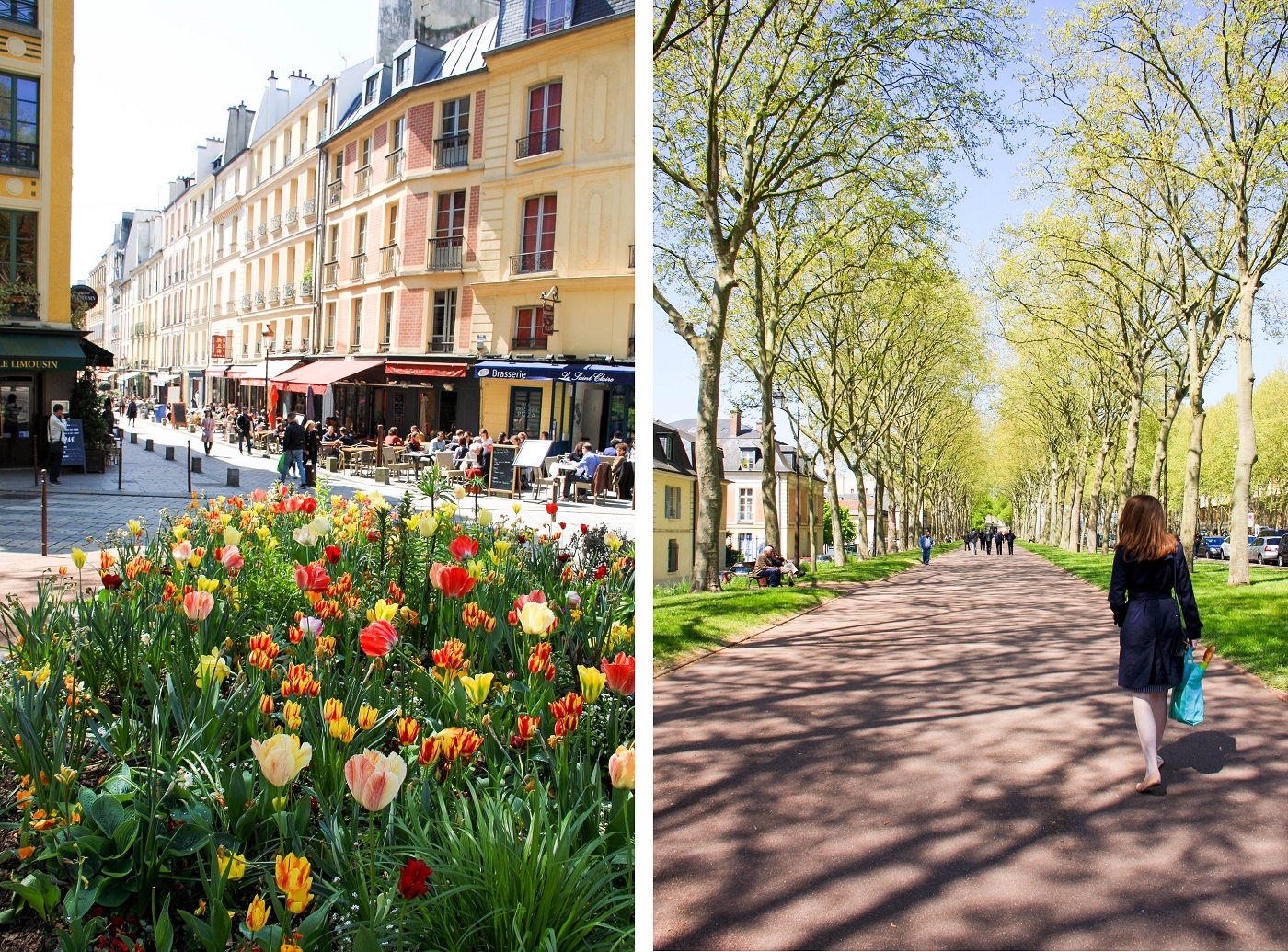 Food
Since picking up our picnic food for Versailles from the outdoor market was out the window, we jumped on the train and headed to the town of Versailles, where we grabbed lunch at the local grocery and boulangerie.  This, I highly recommend!  We bought cheese, baguette, clementines, and, of course, pastries for dessert.  It may be totally "tourist" to pack a picnic to eat in the gardens, but I didn't care, it was so much fun!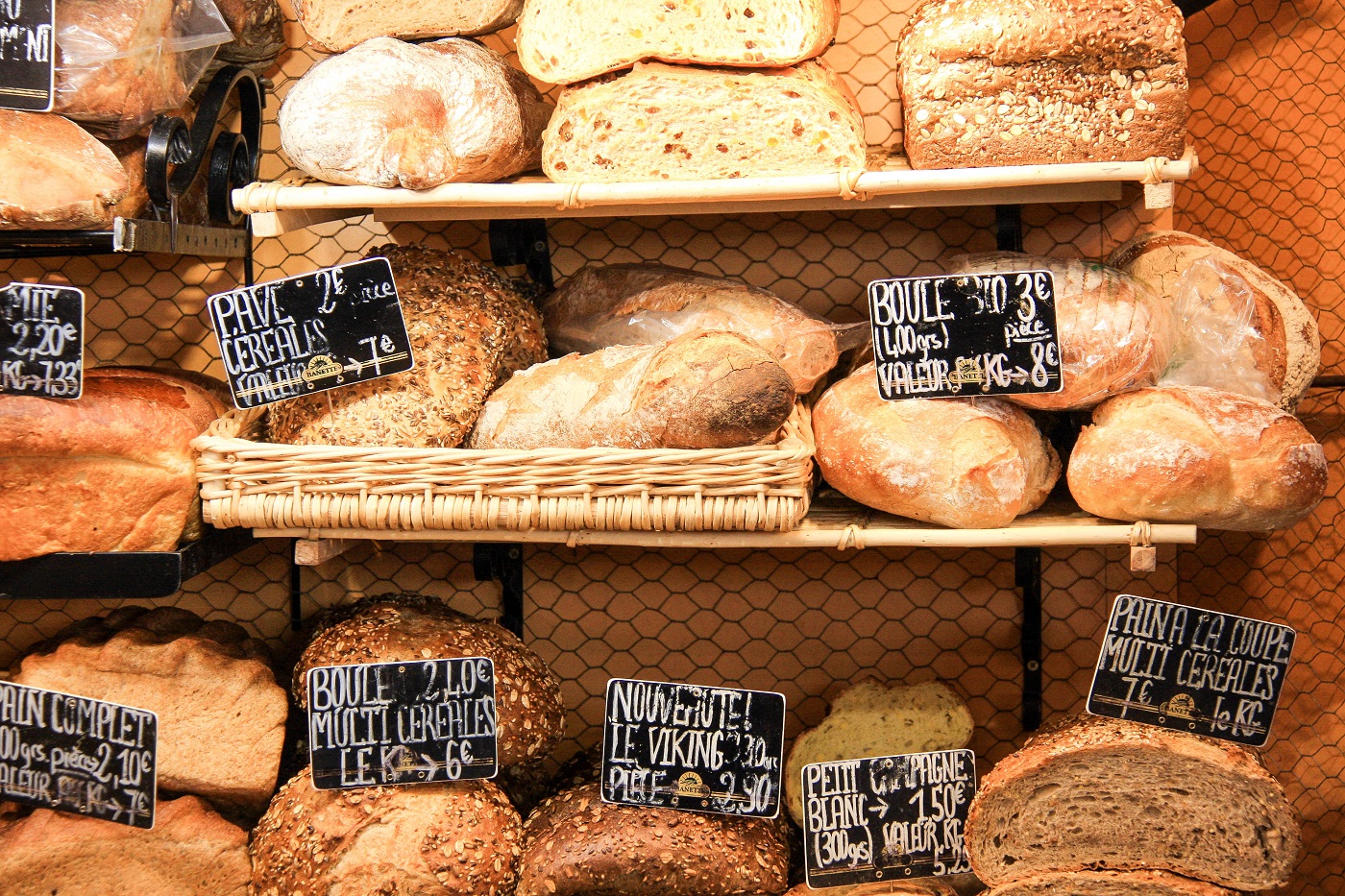 Tickets/Lines/Waiting
We purchased the Paris Museum Pass online before our trip. This gets you into several museums like the Louvre, Musee d'Orsay, Arc de Triomphe, the Pantheon, the Palace of Versailles, and more!  It was well worth the money, because you completely skip the ticket lines, and get to go into the museum right away!  Such a time saver, I can't recommend this more!
However, that being said, the one place we stood in a line was the Palace of Versailles.  We stood in that line for a good part of a couple hours.  But, this wasn't the ticket line, it was the security line, so no pass of any sort was going to let you skip it.
(Side Note:  there was a terrorist attack that occurred on the Champs-Élysées the evening before, so I wouldn't be surprised, because of the heightened security, that the line was moving a lot slower than usual that day.  So it might not always be as bad as we experienced.)
(Also: Once you get in, if you have your own lunch, they will take it from you and store it away while you tour the palace. But don't worry, it seemed to me that they stored it in a very cool place, so our cheese and meat was just fine!)
So looking back, what I would do differently in terms of lines/tickets, would be to get there before opening that morning.  I have since read online that there are no lines first thing in the morning.  PLUS! This gives you more time in the garden/park…which brings me to my next point!…
Palace/Garden/Park…Don't get them confused!
The Palace was incredible!  I have never seen anything so ornate and over-the-top in my life!  The palace was huge, and all self-guided.  If you get an audio guide, it will take you a while to get through, but by the time we got into the palace it was getting late, and we opted to go through as quickly as we could so we could spend more time outside and eat our lunch.  It probably took us under an hour to tour the palace (the actual building is huge, but only a portion is accessible to the public), and we soon hurried with our lunch to the garden.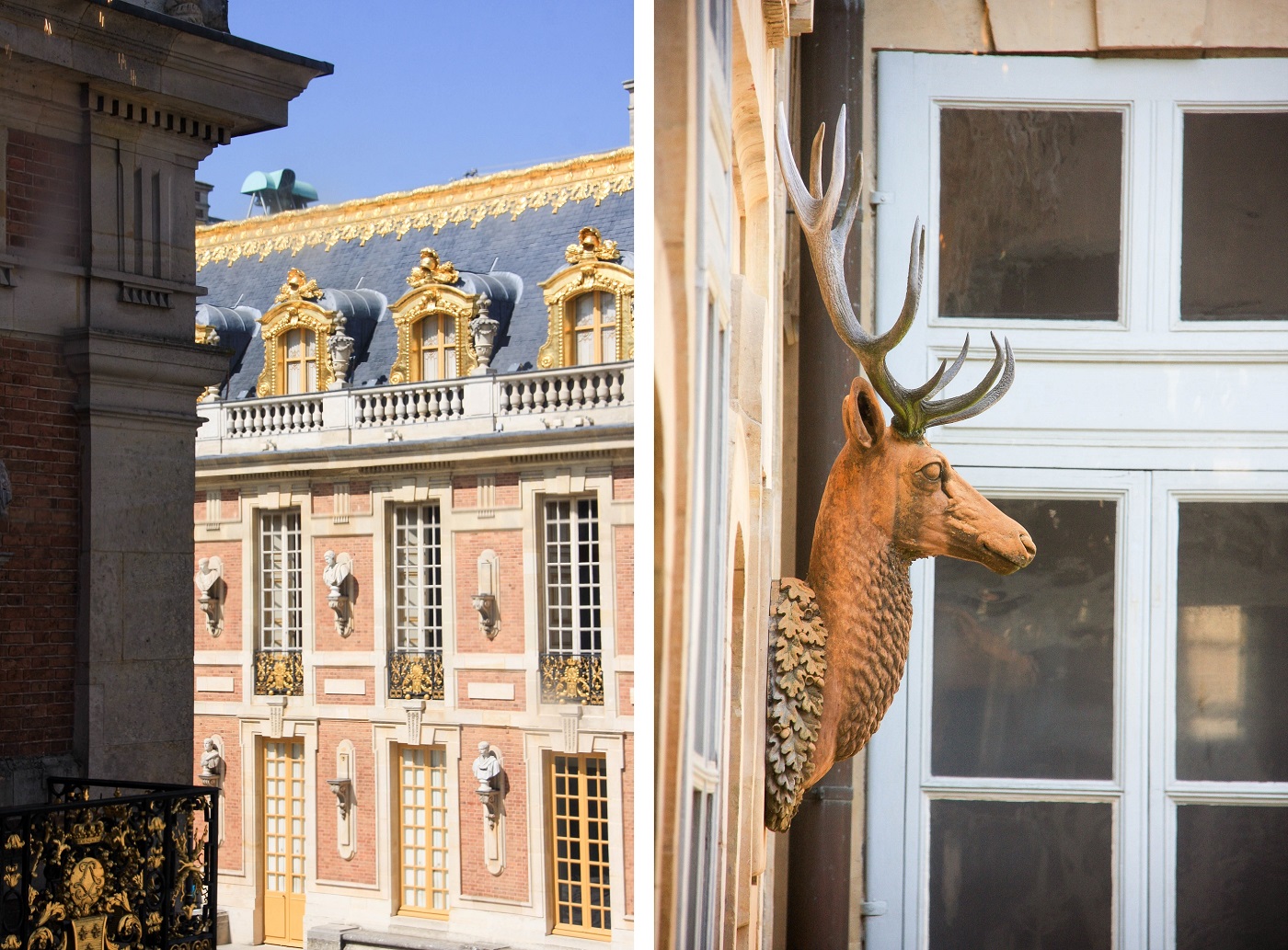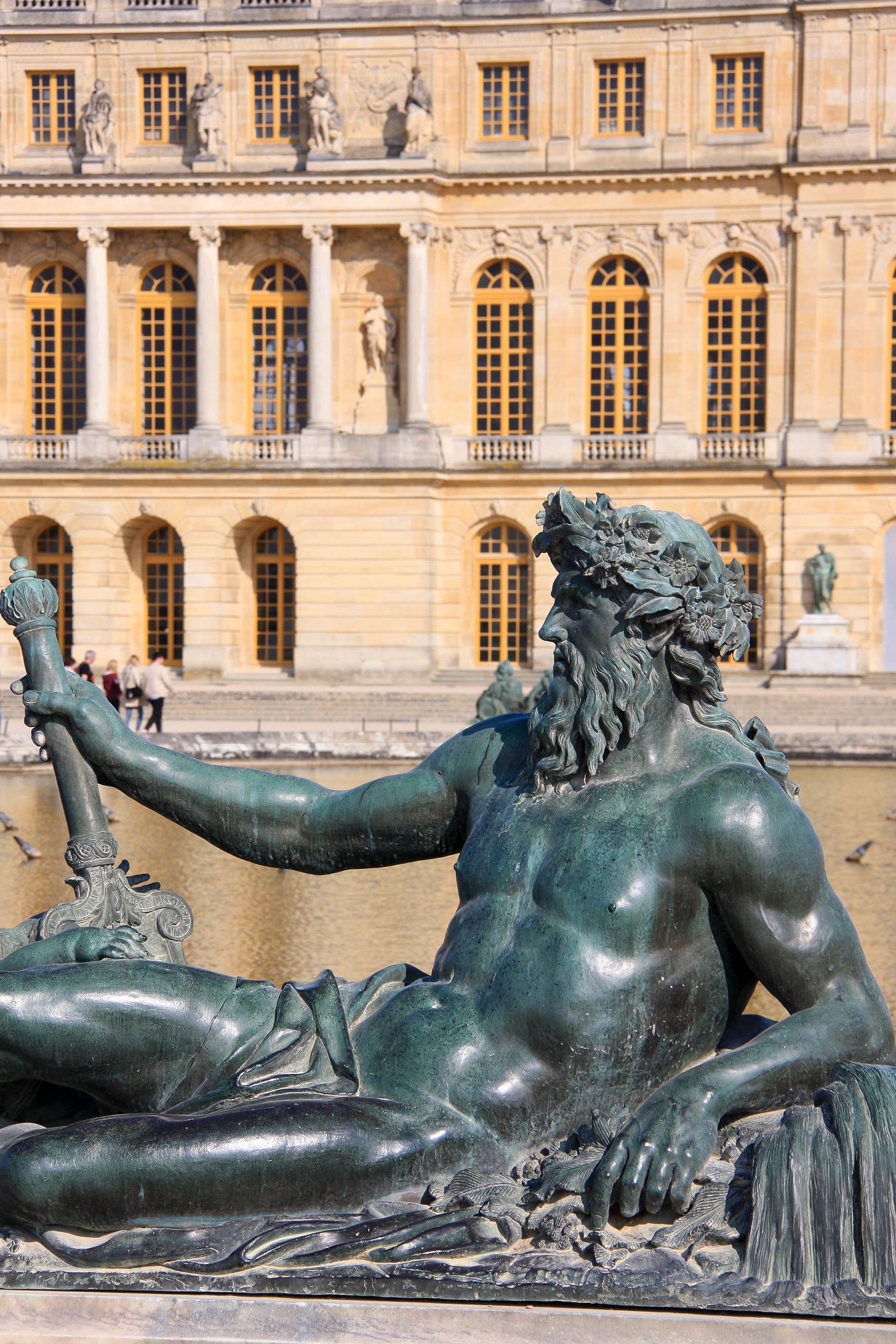 This is where I mention again that you not get the palace/garden/park confused.  When we got to the entrance of the garden, and showed our Paris Museum Pass to get in, they told us that it only got us into the palace, and not the grounds.  So we had to purchase a separate ticket for that.  It wasn't a big deal, but just in case you are planning to go the Museum Pass route, you will have to get a separate ticket if you want to see the garden (worth it! btw).  Also, don't forget to SAVE THE TICKET!
The garden was absolutely my favorite part of the day!  The hedges! The statues! The pathways! The classical music! The hundred different ways to get lost! It was all amazing!  Our original plan was to eat and then rent bicycles to ride around the mammoth park, but because of our lazy morning start, and the long wait in line, there was no time….  But I will definitely be doing that next time!
After devouring our amazing French lunch in the shade of a large hedge, we explored further.  Keep the map handy, because it would be very easy to get lost if you go off the main roads to explore the smaller paths, all of which lead to something spectacular!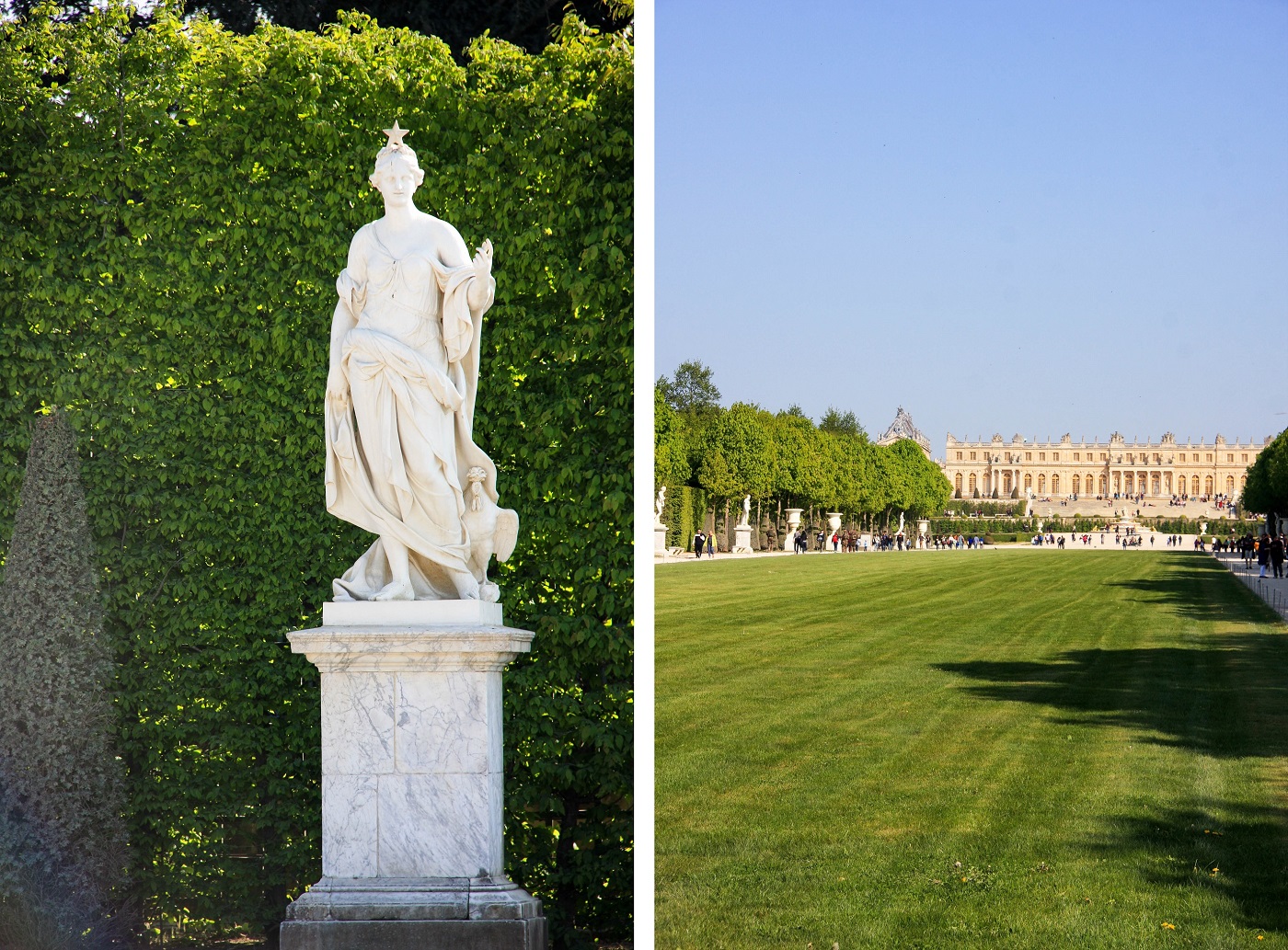 When we got down toward the Apollo Fountain, I noticed a very enticing cart just below near the pond behind the fountain.  Naturally, I went to explore said cart, and somewhere along the way, with no sign or indication, I crossed over from the garden to the park.  This is why you need your ticket handy, because in order to get back into the garden, you need to show your ticket again.  There is no big fence, checkpoint, nothing…just a woman lingering nearby who will stop you to ask to see your ticket if you try and go back in.  So keep that ticket on hand, because you will definitely want to explore the park, where you can eat at a restaurants, shop, sit by the water, and even rent boats to paddle around the pond.
Now to get back to that cart…it turned out to be a sorbet cart (of course!), and it was the cutest thing ever!  The gentleman serving the sorbet was very friendly, and the sorbet was incredible!  I got the raspberry.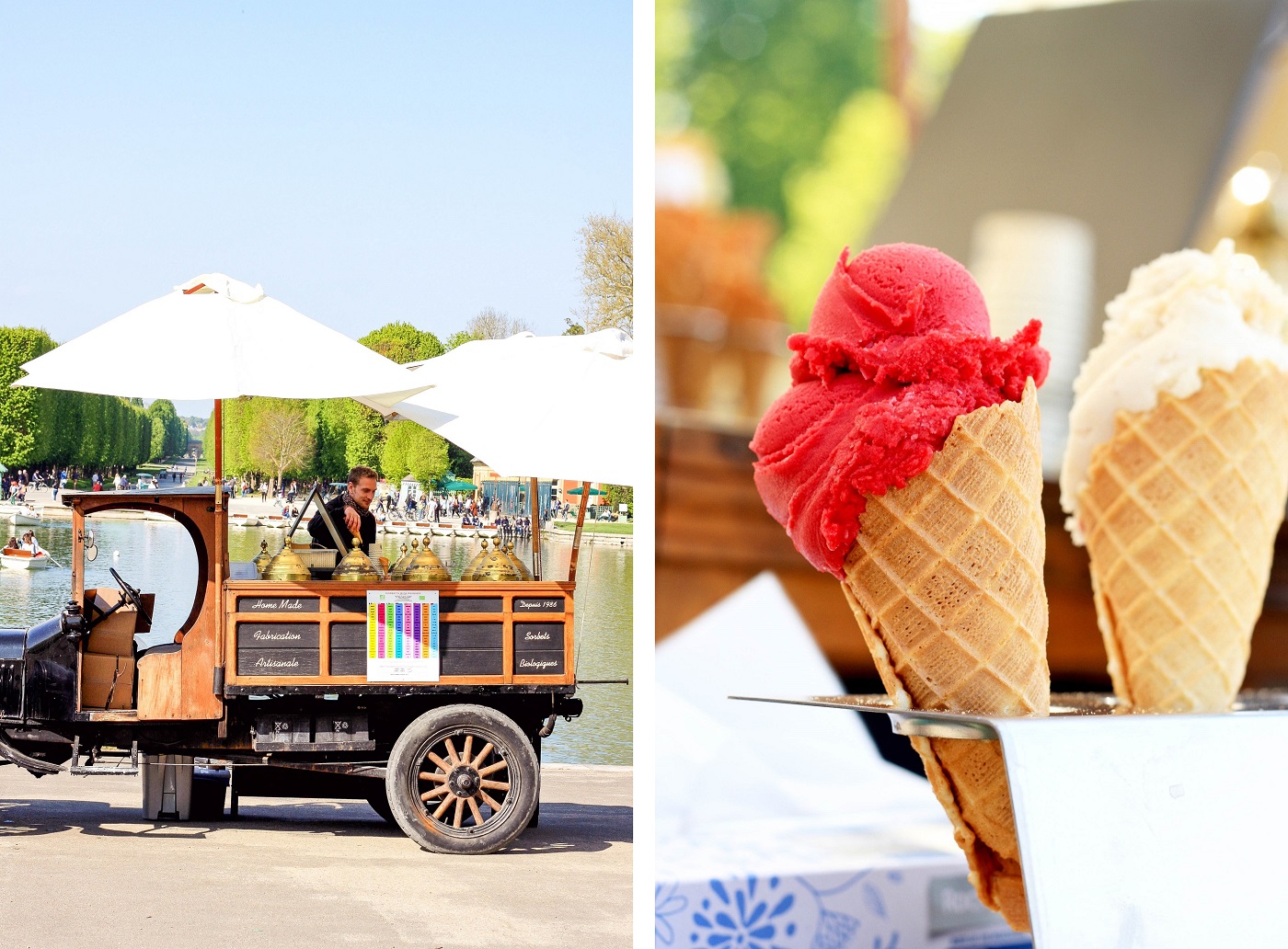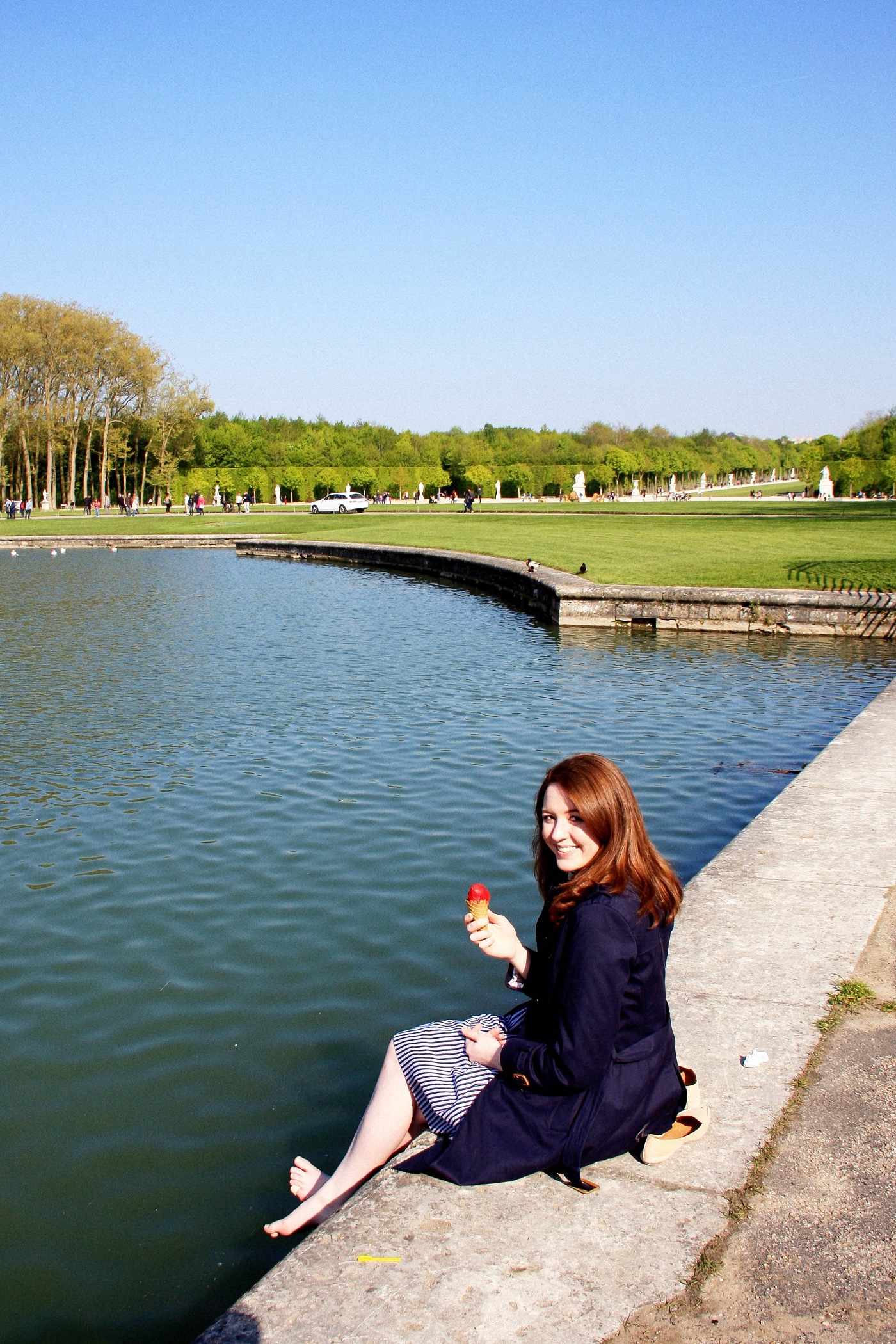 All too soon, it was time to get back to the train, and head back to our Paris apartment.
Once we got off the train, and came back up to street level, I immediately noticed a crepe cart.  That was another thing on my "must do" list…so I got to end the day on a chocolaty note.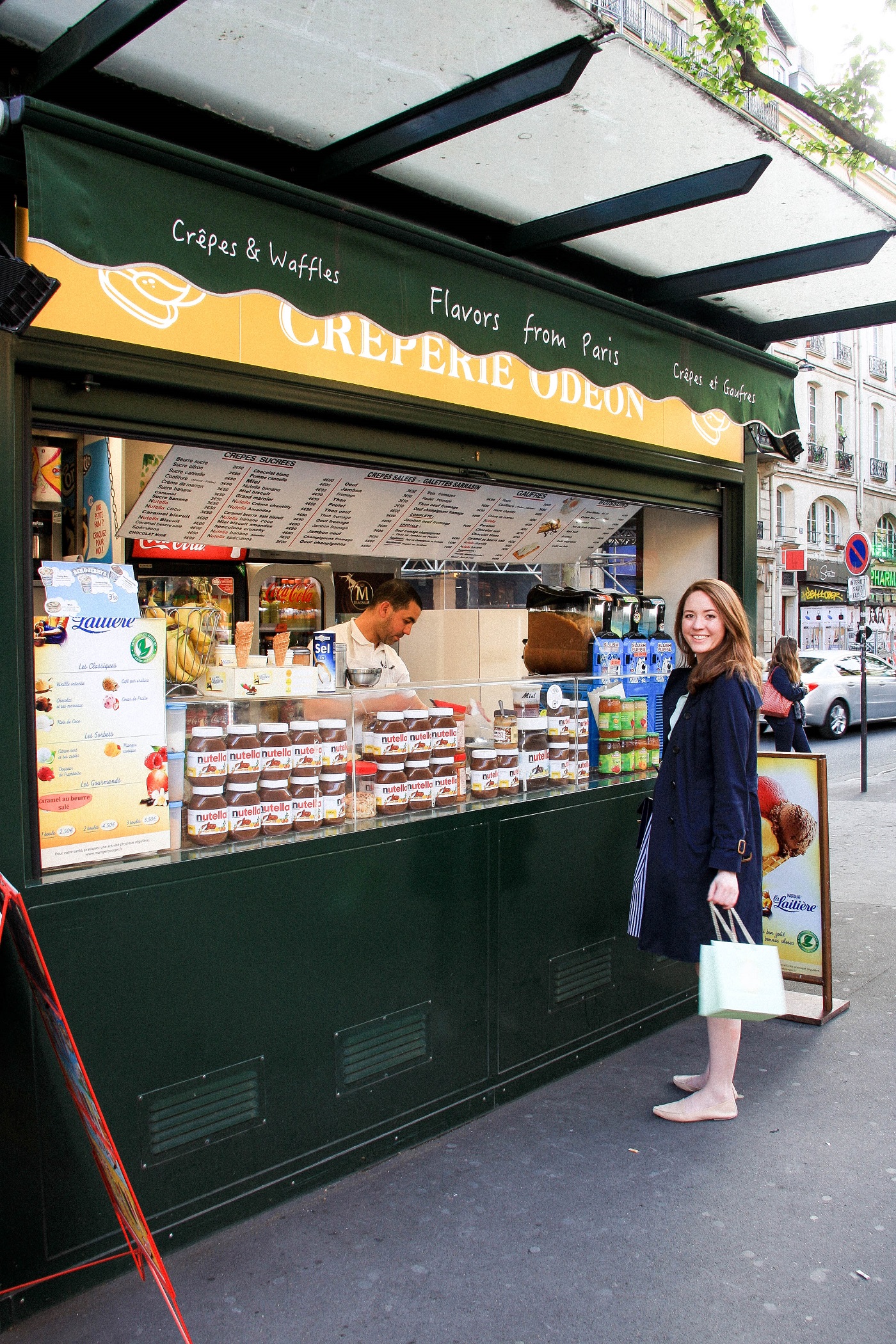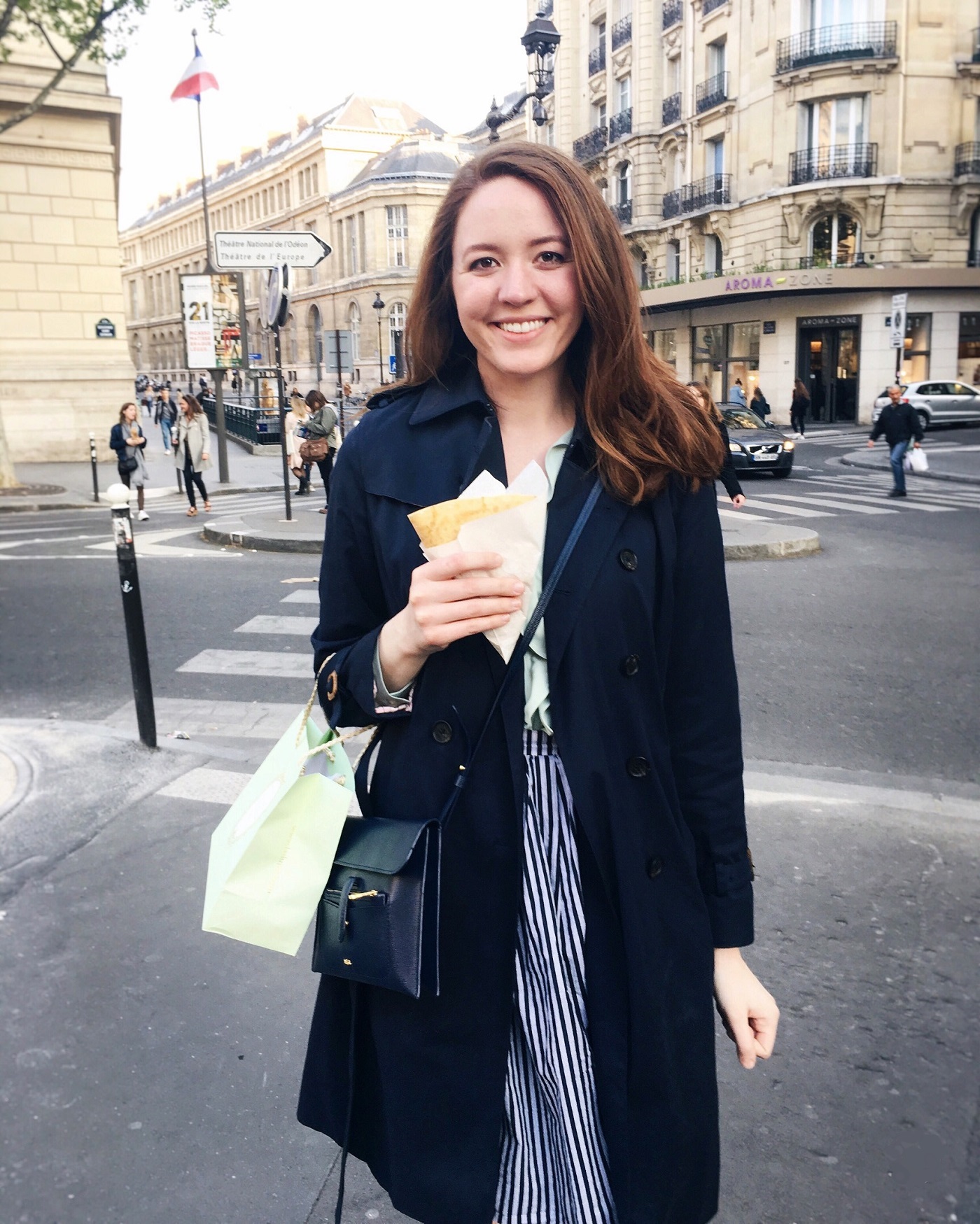 So to break it all down for you, here are my tips for visiting Versailles:
1.)  Stay in the town if you can, and get to the gates before opening to avoid long lines.
2.)  Spend as much time as you can in the gardens/park, rent a bicycle so you can see more! And keep that ticket handy!
3.)  Pack a lunch to eat in the gardens.
4.)  Try out one of the food carts in the garden!  I saw one serving Angelina hot chocolate and pastries, I had a friend say she got a crepe there once that was the best ever, and my sorbet was incredible!