This is the conclusion to the Great Strawberry Question of 2017.  If you read my strawberry picking post (here), you know that there was some question of what one does with three pounds of strawberries at the end of a good day of picking.  I kind of went into the whole strawberry picking thing with no formal plan in mind, which probably wasn't the best idea…but I'm only human…a human who loves strawberries…
After a bit of thought I landed on the idea of creating a red, white, and blue, berry filled, 4th of July dessert.  I started off with the typical pie idea, but that seemed too obvious, so then I went for a tart…but that seemed too neat and boring…  As much as I love a good tart, I wanted something a bit more free-form and fun, something that felt like summer.  That's when the galette came to mind.  I love galettes.  They are so pretty, and yet informal.  Something to slice up and set in the middle of a table for everyone to take a piece.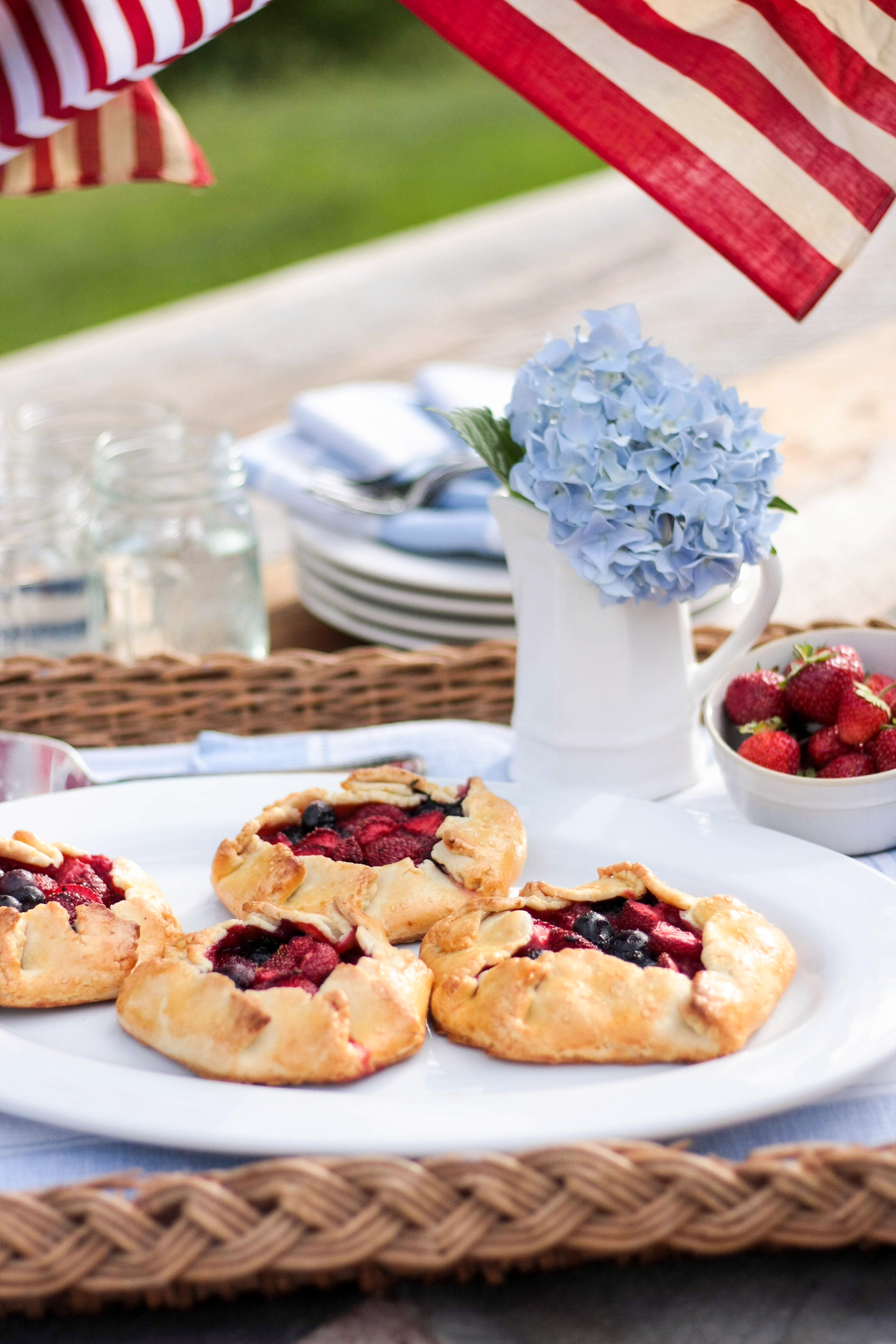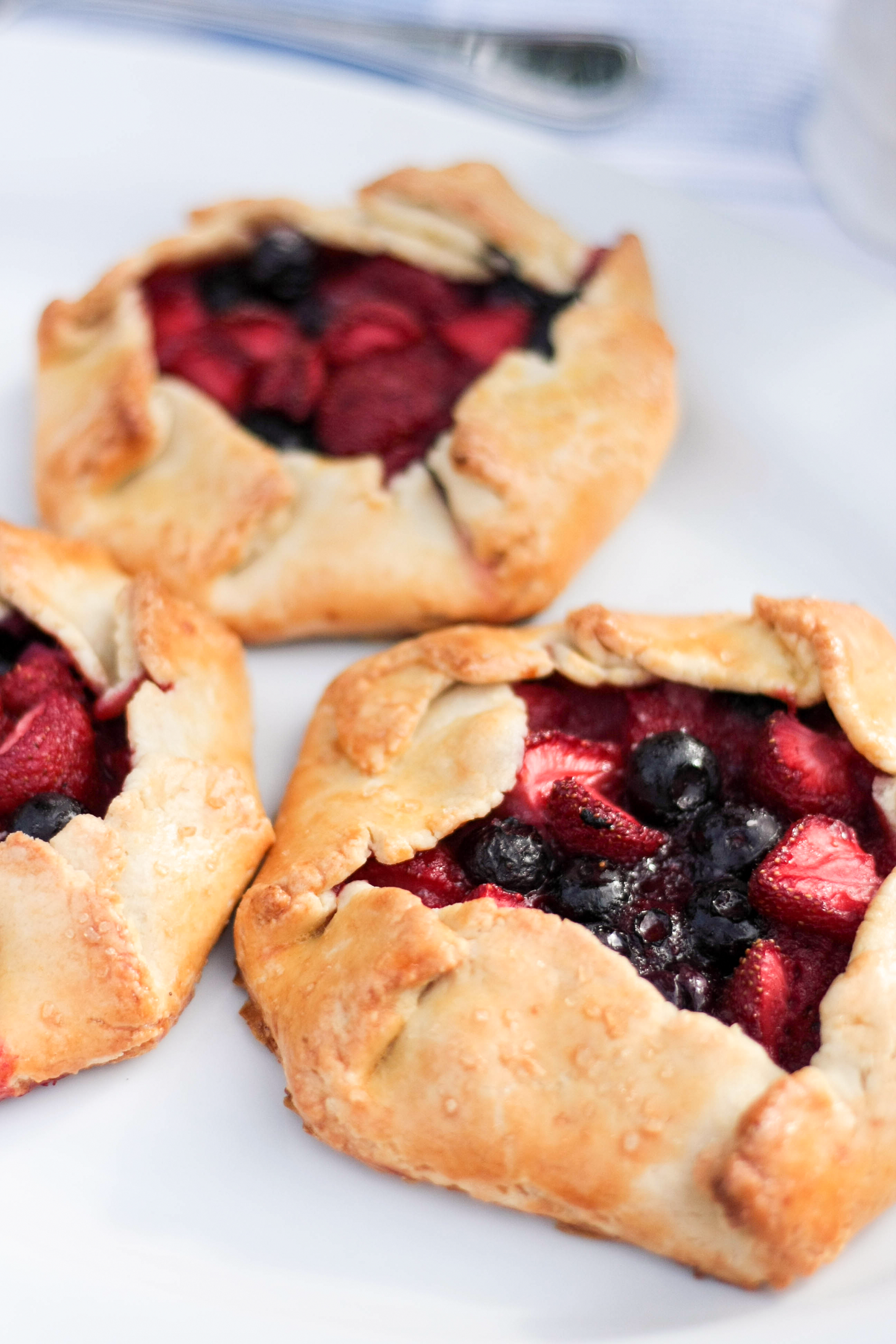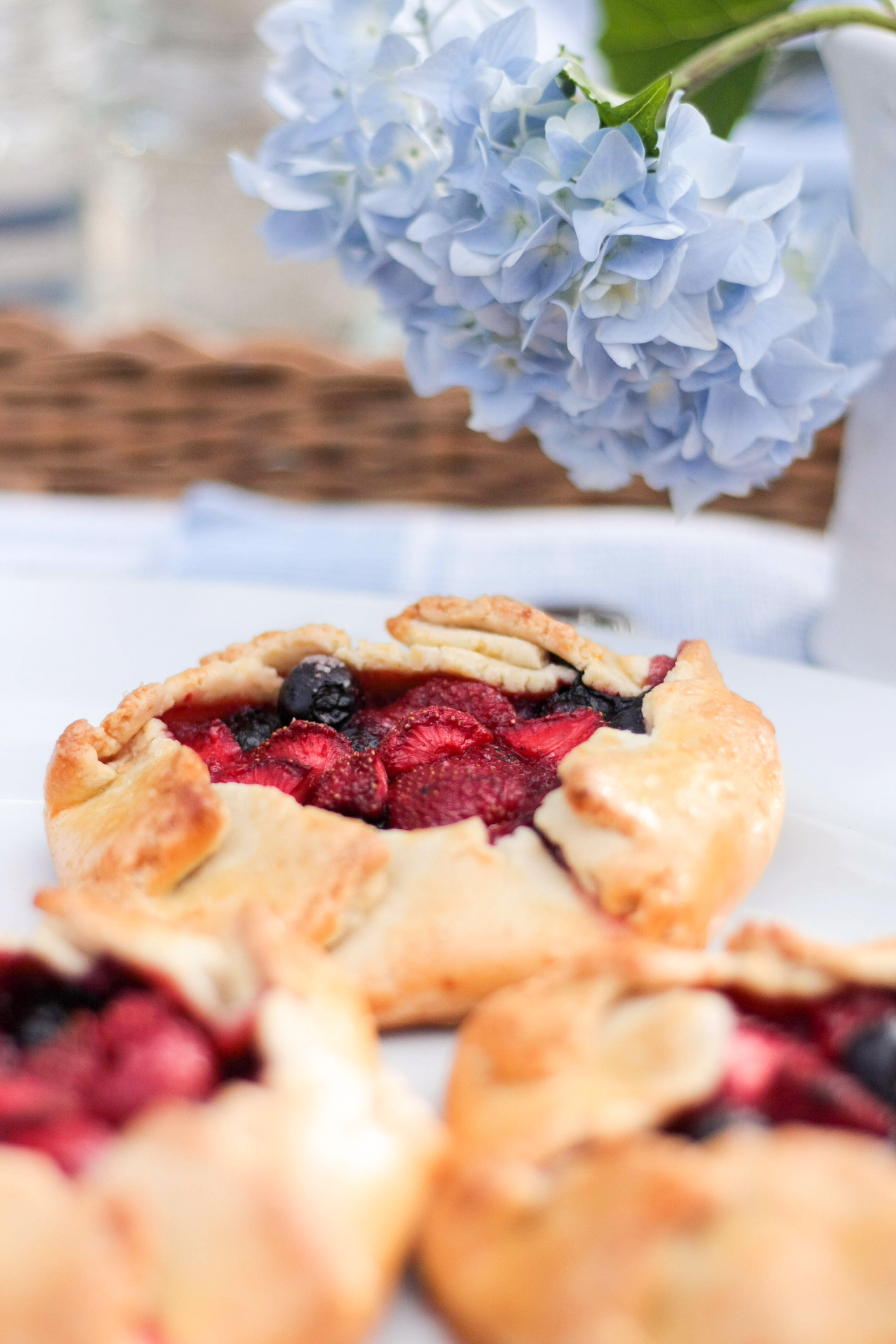 I had never made a galette before, but I've had some baking experience, and it actually turned out to be pretty easy!  Instead of one big galette, I thought four small ones would be fun.  They are small enough for one person to have one all to themselves, but still big enough to divide in half for two to share, if desired.  I went with strawberry and blueberry for the festive aspect, and made sure to add lemon zest and juice to enhance the summertime fresh-ness.  Enjoy the recipe below!
Side Note: I found this woven, basket tray at an antique store in Peterborough, NH, and I am so happy with the purchase!  It is very large, and I love filling up my trays with a ton of stuff, so it's perfect for me! I love the things I find in New England antique stores!
–  Petite Berry Galette  –
Serves: 4
Total Time: 2 hours
Ingredients
For Pastry:
2 cups All-Purpose Flour
1/2 cup Powdered Sugar
Pinch of Salt
Zest of 1 Lemon
1 stick Cold Salted Butter, cubed
2 large Egg Yolks
3 Tbs. Ice Cold Water
1/4 tsp. Lemon Extract
For Filling:
1 lb. sliced Strawberries
1/3 cup Blueberries
1/3 cup Granulated Sugar
Splash of Vanilla Extract
Seeds of one Vanilla Bean
Juice of one Large Lemon
1/2 tsp. Lemon zest
1/3 cup Almond Meal
For Assemble:
1 large Egg, whisked with a teaspoon of water
sprinkle of raw sugar
Directions
In a food processor, pulse together flour, powdered sugar, salt, zest, and butter until the consistency resembled breadcrumbs.  Add egg yolks, water, and lemon extract and pulse until mixture comes together in larger chunks.  Place on a sheet of plastic wrap and form into a disc.  Wrap up and refrigerate for 1 hour.
Preheat oven to 350 degrees.  Line a large baking sheet with parchment paper.
In large bowl, gently mix together strawberries, blueberries, granulated sugar, vanilla extract, vanilla seeds, lemon juice, and lemon zest until the sugar has dissolved.
Divide the chilled dough into four equal pieces.  Shape each one into its own disc.  On a lightly floured surface, use a rolling pin to flatten each disc into a circle about 7-8 inches wide and 1/8 inch thick.  Divide the almond meal between all four discs, and pile into the middle of each disc, spreading slightly.  Divide the berry mixture between all four pastry discs, and pile up on top of the almond meal, there should be space around the edges.  Fold the edges of the discs up and over the berries slightly to seal in all the juices.  Take the egg and water mixture and brush over all exposed pastry.  Take a pinch of raw sugar and sprinkle over the pastry, be sparing so as not to make the dessert too sweet, it should just lend a light crunch.
Bake for 25-30 minutes until the pastry is cooked through and is nice and golden brown.  Cool completely on wire wrack.  Serve at room temperature with a scoop of vanilla bean ice cream on top, if desired.