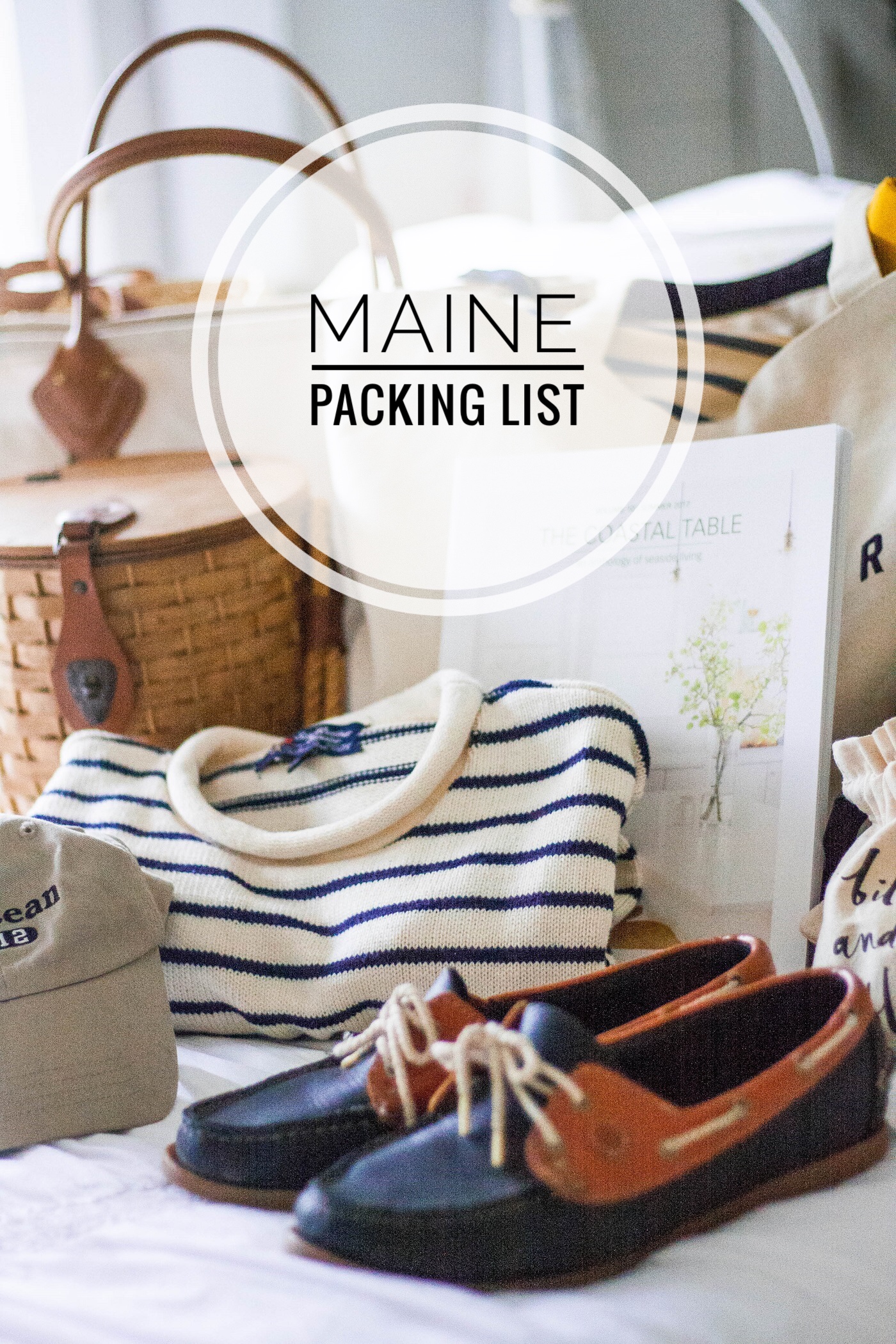 Whenever I go on a trip, one of the most fun (and most stressful) parts is figuring out what I need to pack.  I always enjoy the process of getting everything organized and ready, but the hard part, for me, always seems to be finding the perfect outfits for each day.  I usually plan outfits weeks/months in advance, and by the time I get around to the actual packing, the outfit ideas have changed three or four times by then.  Haha!
My recent trip to Maine was really fun to pack for!  Maine is pretty simple, casual, easy, with touches of vintage/old fashioned vibes all up and down the coast.  Here is a rundown of what I recommend packing for a weekend in The Pine Tree State.
You Can Never Go Wrong With a Tote  –  While in the land of L.L. Bean, ditch the weekender and overnight rolling bag.  Totes are the way to go!  I brought two on the trip.  My big tote I bought at Daylesford Farm in the Cotswolds back in the spring while on my Europe trip.  It is huge, and always handy.  I sometimes use it even as an everyday bag, but for this trip it held all my clothes and shoes.  My smaller Boat and Tote from L.L. Bean held all my accessories and extra things, and I could even use it for a handbag whenever needed.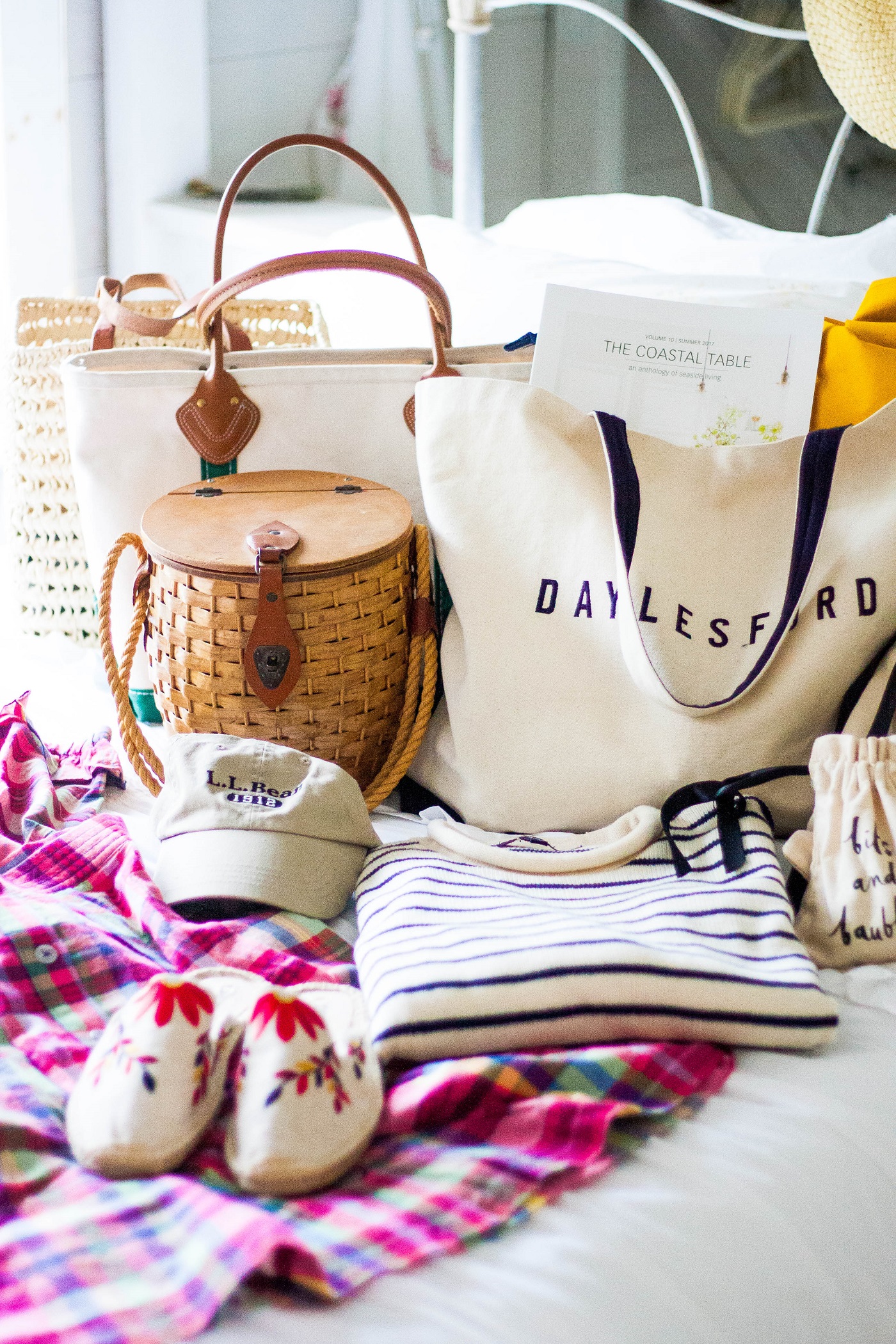 Sweater Weather Always  –  It is always sweater weather on the coast in Maine.  Even on the warmest and sunniest of days, the evening temperature can drop, and there is always a breeze, so I would make sure to pack a sweater or two for good measure.  My KJP sweater is features in the photo below.  It is my favorite summer sweater!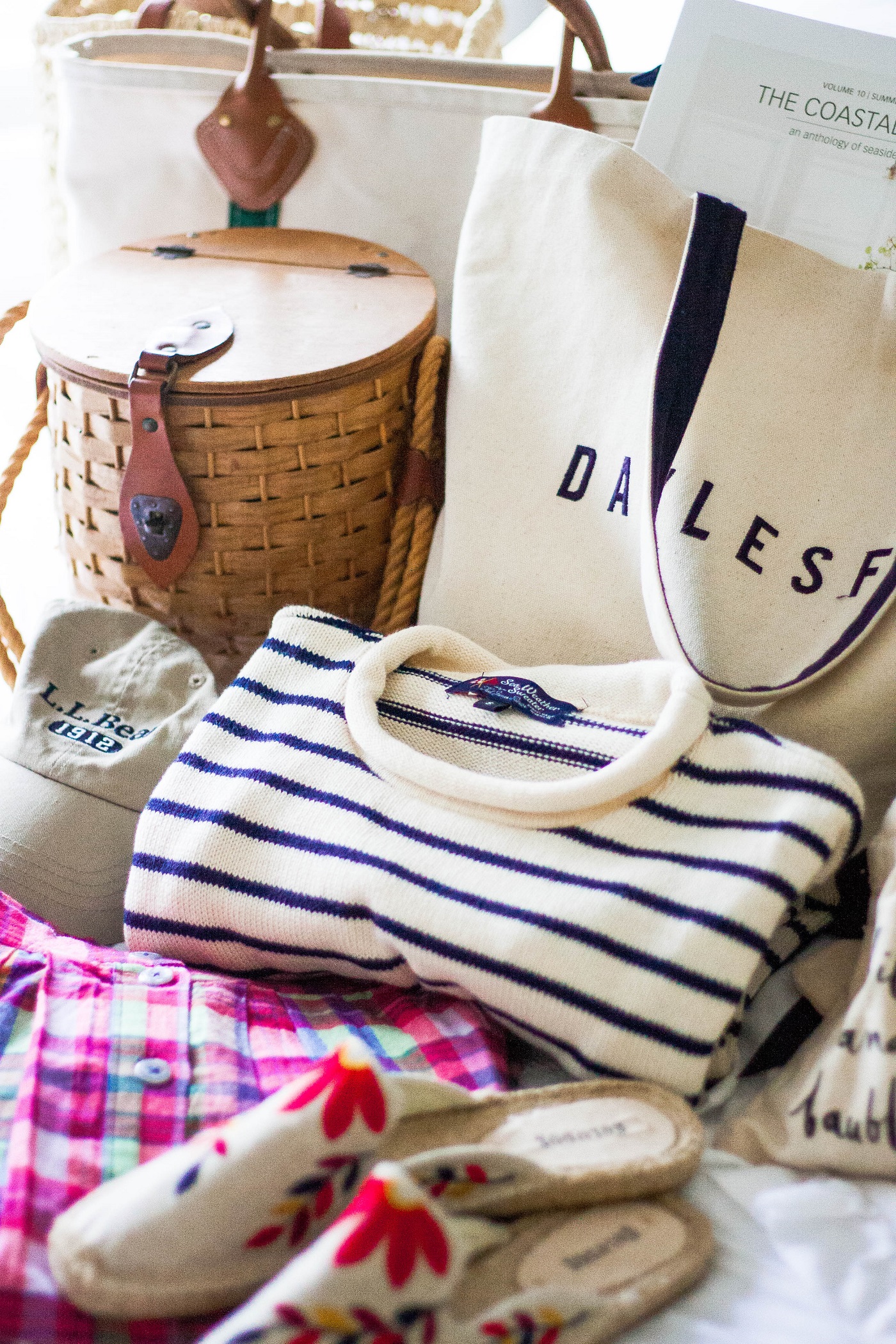 Basket Bag  –  The good ol' basket bag, the darling of the season, the most popular of accessories!  I was quite the collector of the wonderful woven bags this summer, and I made sure to bring a couple of my favorites on the trip.  I apologize that I never have a basket bag to link for you, as I have a habit of picking them up at tiny specialty shops, antique stores, and other out-of-the-way places so I can never find the same ones online.  But here are a few of my favorites that are out there, linked below!

A Yellow Rain Jacket  –  Okay, okay, it doesn't have to be yellow, but it doesn't hurt!  A rain jacket is always a good idea, no matter where you are going.  New England is a region where the weather changes hour to hour; you can never predict that a day that has been forecast as sunny for weeks won't become thunderstorm central on the day!  My yellow waterproof breathable from Barbour is my go-to!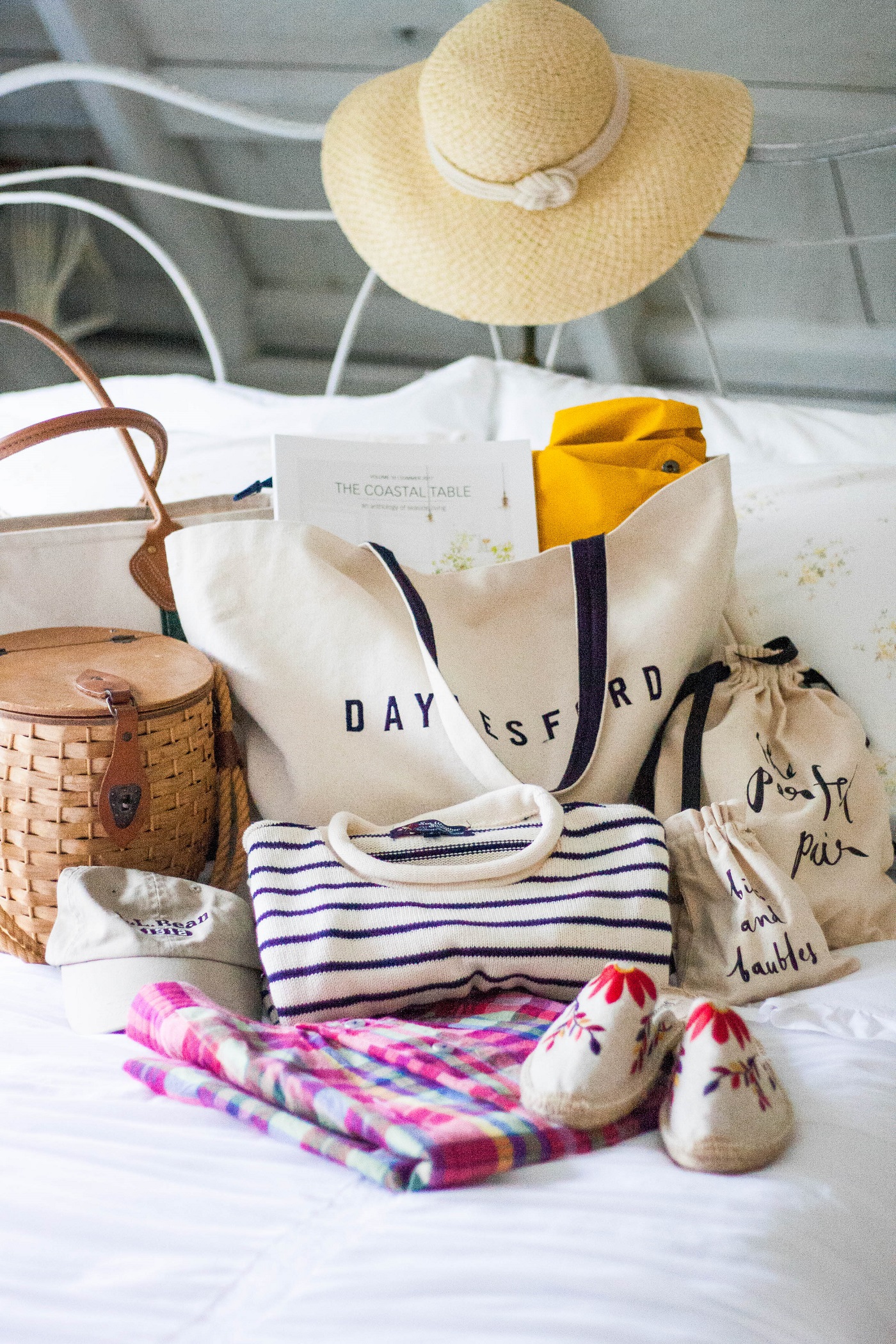 Good Hats, Good Shoes  –  Baseball cap, sun hat, sliders, and boat shoes.  Boat shoes are perfect for any weather, and I do so love my KJPs!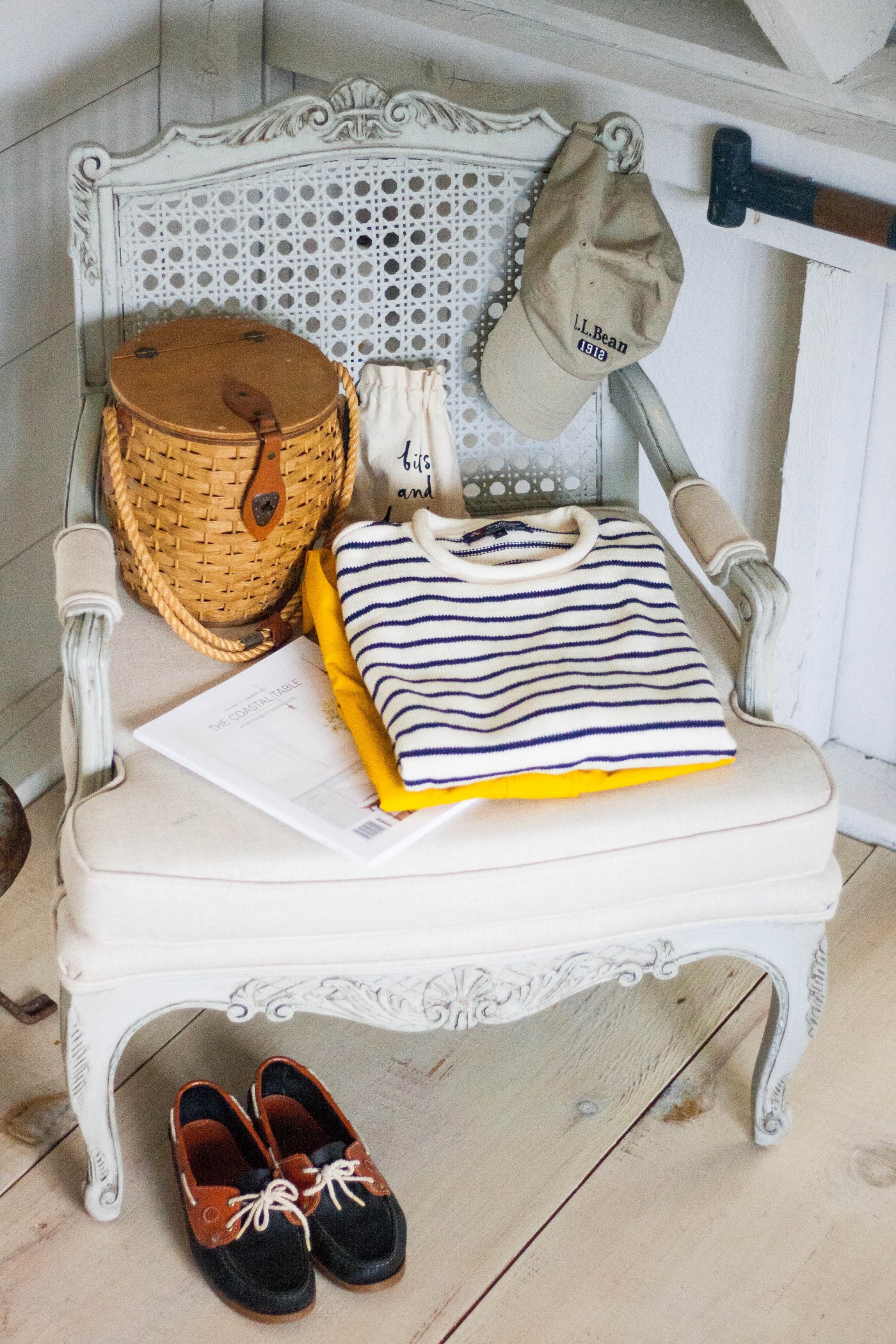 Do you have any good tips on packing?  I'd love to here them!